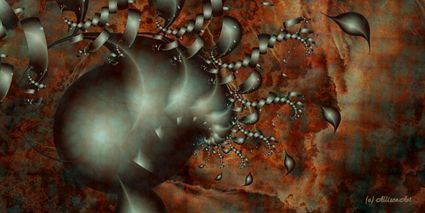 Send Out the Probes by Linda Allison
No one to date has had a more profound effect on fractal art style than Linda Allison. Her fractals became the template de rigor for the Fractal Universe Calendar (FUC) — the long-running staple of fractal art mass marketing. Her work made with early iterations of Ultra Fractal established a touchstone in the public mind for what a fractal was supposed to be — swirly and decorative ornamentation filled with light. Subsequently, the production of fractal art took on guild qualities, as Tim laid out earlier in a series of posts on Orbit Trap, and imitators swelled Fractalbook to churn out self-similar kudzu while social networking.
I've been hard on the FUC and its rigid notions of fractal imagery, so some readers might think I am being snarky here. I am not. To have had such a profound effect on any artistic discipline is a considerable achievement.
Not that Allison necessarily ripped her style from whole cloth. More likely, it was indirectly appropriated. Early on, Ultra Fractal built its commercial software to take advantage of Fractint's open source graciousness. By annexing Fractint formulae, Allison was able to build on established pattern recognition and use the additional graphic firepower of UF to launch her own vogue.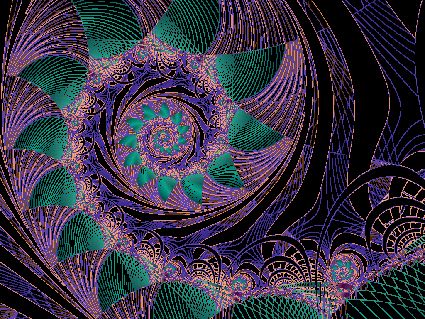 Sp035 by O
The image above by prodigious Fractint artist O shows the foundation for what would become the early-UF Allison-influenced style. The spiral image is crisp and clear; its composition unfolds in dark tones with hard, defined lines. Although O's gender is unknown (to me, anyway), and stereotypes aside, a differentiation between masculine and feminine styles might be in order here. From A Little Design:
Typically in design the stereotype for "masculine" follows with angularity, straight lines, phallic forms, squares, roughness, etc. And for the "feminine" the standard is: curvy, rounded, smooth, organic, soft, floral, flourishes, motherly, nurturing… etc. But one doesn't have to look far in our modern world to find nurturing men, who care for their children and aggressive women who climb mountains.
Allison took Fractint forms and ran them through her own UF filter — more curves, more saturation, more light. Softer, natural shapes replaced harder-edged geometric forms and angles.
Morning Magic by Linda Allison
Her images are elegant flourishes of light — highly decorative. At their best, they transcend a beauty-is-all aesthetics and reach to be about something — to express ideas or suggest connections to the natural world.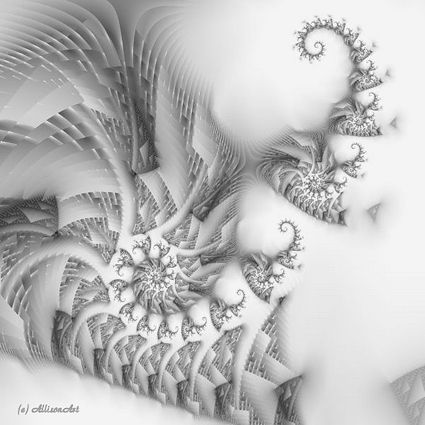 The Avalanche by Linda Allison
Over time, Allison's style, coupled with the popularity of UF, became the dictionary photograph for the word fractal. Before long, the compliment engines of Fractalbook were mass-producing such images on a scale dwarfing greeting cards. This "UF Look" became the status quo — became the gateway style to "success" in the Fractal Universe Calendar and settled into the prevailing (but not exclusive) aesthetic of the Benoit Mandelbrot Fractal Art Contest (BMFAC).
Ironically, such imagery somehow enjoyed a kind of anointed status as being more purely fractal — even though such works were significantly processed within UF and eventually became precursors for the masked and layered pictorials generated by artists using more recent versions of the software.
Garden Clippers by Linda Allison
But any artistic movement — especially one awash in decoration — once safely boxed into the foundation of the status quo will be stifling to some — some who envision a new wave. In short, Allison's style gave the fractal underground something to rebel against, to "kick against the pricks" in the medieval sense. More than a few fractal artists actively worked against the grain of the prevailing aesthetic for years, and, more recently, Guido Cavalcante sounded a clarion call on Orbit Trap:
I believe that algorithmic art must now engage in activities that have been "not appropriate" for the medium until now, during those times when it was still trying to find its own aesthetic. But now algorithmic art is finally ready to serve "non-artistic" purposes. It's not a problem, of course, if some prefer to continue on creating purely aesthetic and visually intriguing objects. There is nothing wrong in doing that, although doing so does not constitute the same "heroic" accomplishment that it once did when algorithmic artists were struggling to break away, and give birth to a new medium. That was the challenge of the last 20 years. But now those early steps belong to history.
For those of us who prefer our fractal art with more cultural-social-political bite, it's tempting to think the cosmetics of the fractal craft guild are historical memories buried neck-deep in nostalgia. But old habits hang on and on. Just two weeks ago, look who made the cut on Renderosity's Fractal Windows Weekly: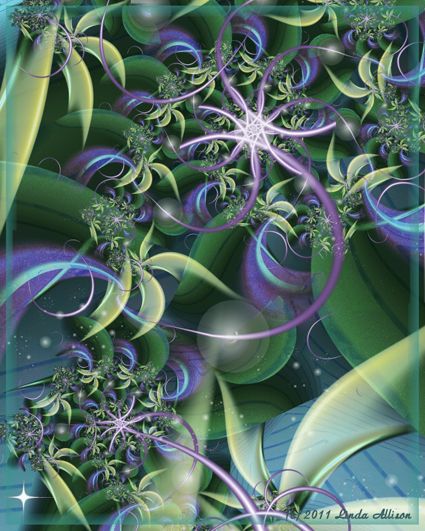 Banana…Bush??? by Linda Allison
Don't topple those weathered statues yet. The status quo is indeed the revolution that's not only televised but still mass produced online in Fractabook. Over on deviantART, a Fractalbook realm pigged out with imitators, open the fractal splash page at any given moment, and you'll find an assortment of today's daily deviation of Allison wannabes. And are you one who thinks the next wave of 3D fractal renders will wipe away the old, stale aesthetics? Not if practitioners using programs like Mandelbulb3D continue to simulate the Allison style and believe ornamentation best fulfills fractal art expression: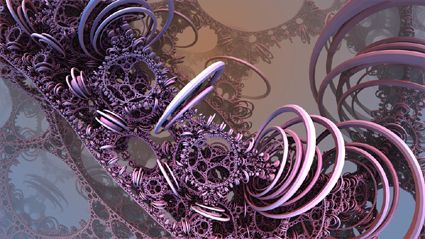 Getting Loopy by Dsynegrafix
I guess the status quo style can still eat its young — even some of those armed with new tools. The lengthy threads of gushing Fractalbook virtual hugs and kisses under the last two images above show how much the Allison style aims to (still) please. I guess an open slot (or grave?) remains in calendars and contests for 3D fractal renders that are properly tweaked with acceptable embellishment. I guess, too, the first clue of establishment leanings was when, completely without irony, Dsynegrafix thanked an artist for use of his parameters. That artist calls himself McImages.
~/~
Next in the series: A look at Jock Cooper's "Mechanicals." One sentence revised for clarity.
He most honors my style who learns under it to destroy the teacher.
—Walt Whitman
Style is a fraud. I always felt the Greeks were hiding behind their columns.
—Willem de Kooning
Style is not something applied. It is something that permeates. It is of the nature of that in which it is found, whether the poem, the manner of a god, the bearing of a man. It is not a dress.
—Wallace Stevens
I've wanted to try tackling the subject of style in fractal art since Orbit Trap began. But style is such a slippery topic — like attempting to capture a jellyfish with a spoon. Still, I'm going to forge ahead — even while admitting up front that I'll likely leave more questions than answers in my wake. I'm feeling my way through the dark here in the hope that knocking a few holes in the walls will let in light.
There's the chicken-or-egg question that needs to be addressed right off. Who or what is responsible for the production of style in fractal and digital art: the program(mer) or the artist? I feel a migraine coming on just wandering into this hall of mirrors.
But that is the Ur-question of style in our discipline (and all of digital art). Work produced in one fractal program definitely has a distinct and recognizable look than work produced in another. So, does the software, or perhaps its author(s), determine fractal art style, and do Phase One fractal artists, limited by the boundaries of a program's capabilities, merely pump out variations on a pre-determined look. In other words, does the tool itself have panache — or is stylistic elegance sourced in how individual artists use a given tool?
I bet I know what most of us would like to answer. But let's a take a little pop quiz first.
Match the fractal software with the images from the artists below. Do not immediately click on the images (to see larger versions on the artists' sites) before guessing for that constitutes cheating. In a case where you "know" the artist and are familiar with her/his software preferences, you must, in all fairness, recuse yourself. Begin:
SOFTWARE:
1. Xenodream _____
2. Ultra Fractal _____
3. Apophysis_____
4. Quasz_____
5. Sterling-ware_____
6. Fractal Explorer_____
7. Chaos Pro_____
8. FractalWorks_____
9. Incendia_____
10. Mandelbulber3D_____
IMAGES:
a.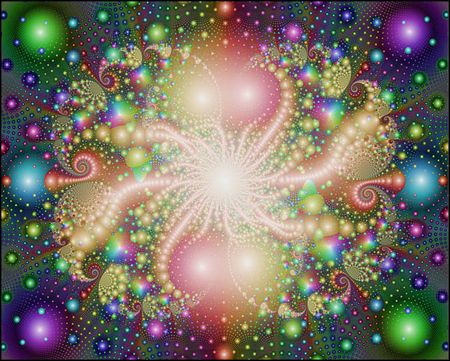 Big Bang by Kerry Mitchell
b.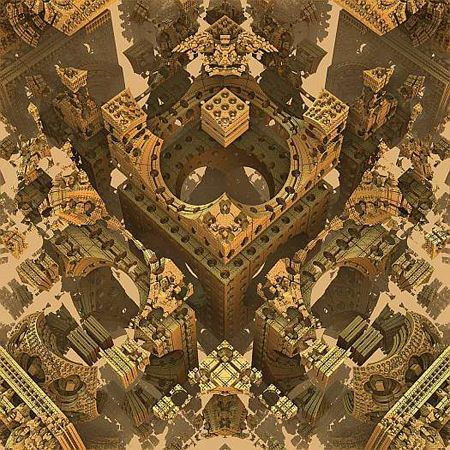 Box (005) by Stefan Vitanov
c.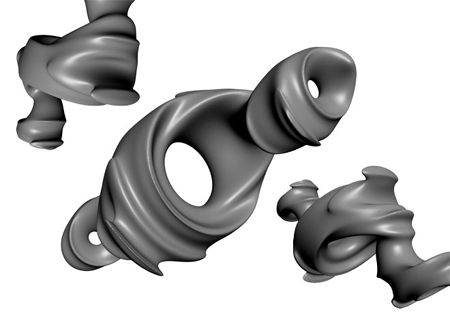 Quaternion 1 by Thomas Scheiblauer
d.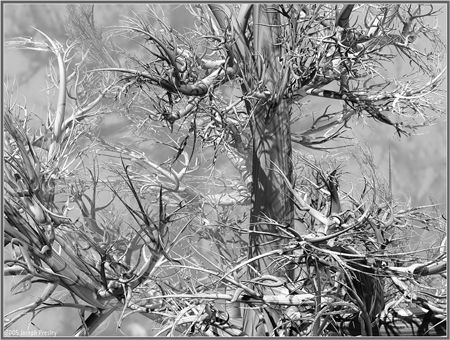 A Tree You Wouldn't Climb by Joseph Presley
e.

Incendia University by AureliusCat
[Note: If you miss this one, you're just not giving this quiz a good college try.]
f.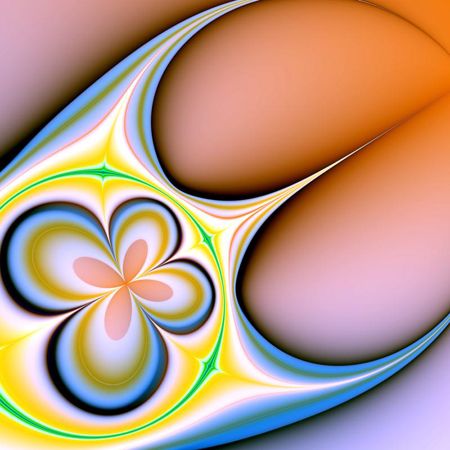 Arcane Encystement by Peter Ludwig Wegener
g.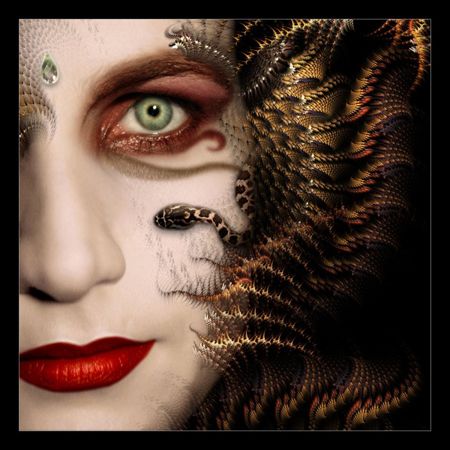 Seraphina by Lilyas
h.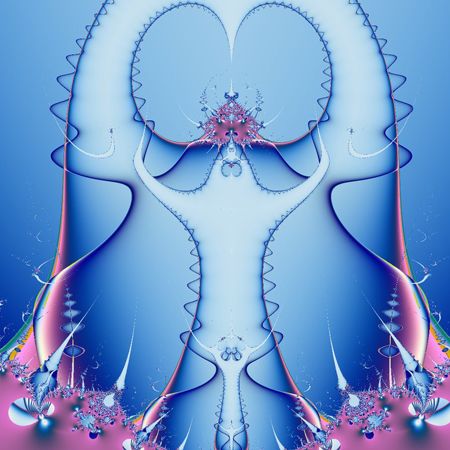 Watery Grave by dlr4553
i.

Golden Mandelbrot Landscape by Duncan C
j.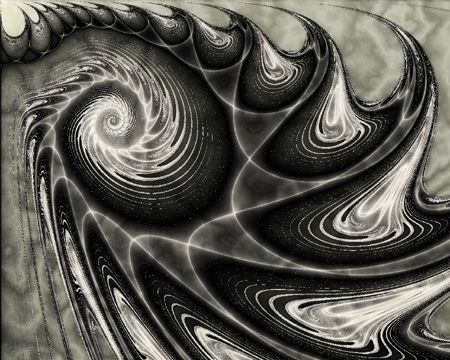 Cream in My Coffee by Karmen
Was this a snap or a head-scratcher? Were the images I included a fair representation? Some might argue that — thanks to hacks and public coloring algorithms — programs like Apophysis and Ultra Fractal are capable of a wider diversity of "styles" than most other fractal-rendering software. Had I included a UF image made utilizing Dave Makin's (fairly) new 3D formula, would that have been more challenging? And didn't one of the images include photo-manipulation? Was that "cheating"? These are all legitimate qualifiers.
Of course, the same general line of inquiry could be leveled at digital art in general. No two graphics programs "look" exactly alike either. The filters in Photoshop and those in Photo-Paint are quite different. I imagine the same visual distinctions would hold true for 3D graphic renderers — like Cinema 4D or 3DSmax. It does not necessarily follow, though, that each program inherently leaves an indelible stamp on style.
Or, at least, I'm guessing most of us would like to hope not. After all, Van Gogh's "style" was shaped more by his talent and vision than by his choice of thick brushes. Wasn't it?
Wasn't it?
~/~
In future posts in this series, I'll look at the styles of select fractal artists.
Oh. I almost forgot. Do you need an answer grid to the quiz? Or was the exam easy — and, if so, what does that suggest?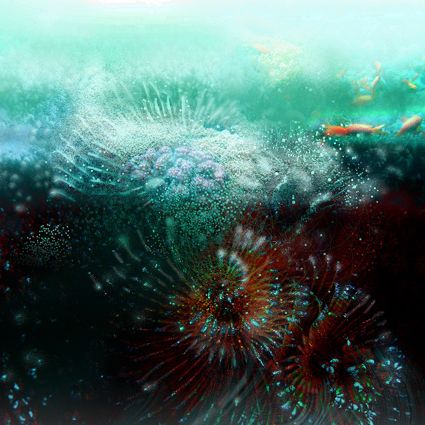 sbioelements (from Undersea) by Tatiana Plokhova
I figured it might be time to return again to examining work that falls into the category of Phase Two fractal art. Tim laid down the foundation for Phase Two thinking in an earlier OT post where he notes that
Phase Two fractal art focuses on the image and not how it was made. Perhaps in Phase Two fractal art the word "fractal" is no longer relevant because the word fractal only has meaning if the artwork exhibits a fractal appearance.
I followed up with several OT posts — including here and here — showing examples of Phase Two fractal-influenced art. These works were not made using software but rather inhabited the nooks and corners of the more conventional art world.
Today's cases are not as far removed from computer processing as examples mentioned before in sculpture and woodworking but nonetheless were not created using fractal-rendering programs.
The digital art of Russian artist Tatiana Plokhova often displays fractal traits and is indeed digitally designed. However, it appears to be a made-by-hand crazy quilt comprised of multiple techniques — including illustration, drawing, photography, graphic design, and digital imaging. The fish in the image above likely began their swim in a digital photo.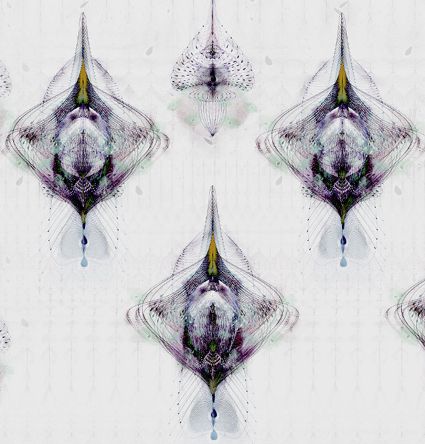 white (from Floral Concepts) by Tatiana Plokhova
An image like "white" looks like it could have originated in Ultra Fractal or Fractal Explorer. But it did not, as the editors of Sublimotion point out:
[Plokhova's] style resembles fractal art, but, amazingly enough, hers is a hundred percent handmade creation. One instinctively feels that the complexity of her lines and dots does not lead to a dead end, but to an inner universe aligning with our consciousness. Tatiana subdues what's mechanical in favour of the manual, what's scientific remakes into organic, what's alien and distant she represents personally.
Is the implication here that conventional fractal art is the aforementioned "dead end"? Perhaps. In an interview on the same site, Plokhova outlines her process:
My technique is quite simple, it's just lines and dots. All the images are "handmade" vectors, it's not a result of processing or fractals. I like mathematical art, but when it's made by a machine, it almost never looks alive.
That last remark may be a gut punch to some of OT's readers. It would be interesting to better understand what Plokhova means by "alive." Her work, like fractal art in general, is heavily non-representational, although she does incorporate biological designs, microscopic structures, floral patterns, and even cartography. Perhaps the reference is to a claim of a prevailing coldness embodied in algorithmic art, as the editors suggest here in a conversation with the artist:
At first sight, your artwork indeed brings fractal art to mind, but immediately one can feel that there is much more to it. It is extremely complex, yet living, organic.
Do you agree?
Northern Circle 12 (from Chaos and Structures) by Tatiana Plokhova
For images some find "organic" by arguing they were created by hand rather than mouse-clicked by math, I find Plokhova's work filled (ironically) with absence. She might even agree:
I think that the way of making pictures with lines and dots somehow reflects philosophical ideas of emptiness.
Somehow, I think the "cold equations," in Tom Godwin's phrase, are just as capable of revealing what is not there.
By the way, Plokhova has also compiled some striking videos of her work. Case in point:
~/~
Can spatters reveal the visible remains of chaotic systems? Claims have been made that Jackson Pollock's action paintings reveal fractal structures. Perhaps blood spatters jog beyond ballistics and "run cold" into the neighborhood of recursion. Even the "ornithological dejecta" that occasionally splays on your windshield might congeal into shapes similar to strange attractors. If so, I submit this photograph by Kate Peters for your Phase Two consideration: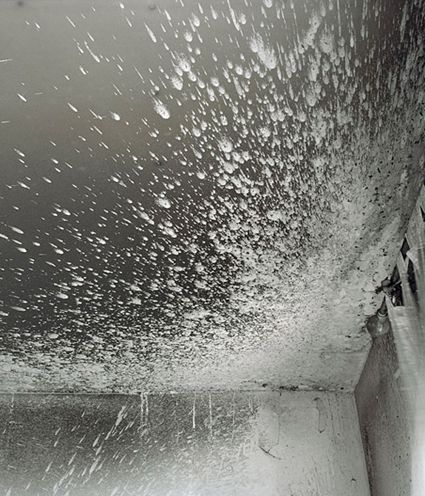 Fire by Kate Peters
Have we been barking up the wrong aesthetic? It appears there's no longer any need to ask mathematicians or artists to explain the infinite intricacies of fractal art. Just put in a call in to your local CSI criminologists for a definitive take on the subject: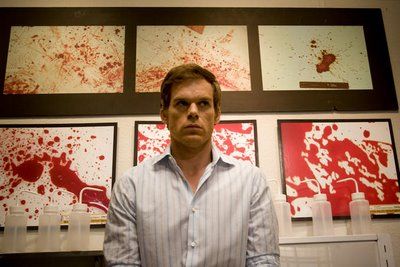 Dexter and his "fractal art" series entitled Dark Passengers. "My work always follows the code."
[Photograph seen on This and That and More of the Same.]
"Graphic" cable television suddenly makes perfect sense to me.
Joseph Jefferson as Rip Van Winkle. Photograph seen on 1000 Stemmer.
Daylight licked me into shape
I must have been asleep for days
–The Cure, "Just Like Heaven"
Dear Diary,
I must have dozed off. Before I knew it, months had passed. But, surely, in the wake of the late holiday season, world peace has broken out all over and every practicing fractalist now lives in a state of harmonious bliss. Thankfully, Orbit Trap is still around to serve as an informal documentation of the historical record. Let's see what I missed.
Back in June, Tim rooted out this question by Madman posed on a Fractal Forum thread:
Do you think that there will be a time when every new picture will look like one that has been rendered previously or at least has the same "feel" as something rendered previously?
You can read the broader context of the question, as well as Tim's suggestions for avoiding imaginative stagnation, on the post, but I wondered if Madman was expressing concerns beyond the mass replication of fractal imagery. It's not just the images that can become stale — or that (what Marilyn Manson once called) "the new shit" (here aka as 3D fractal exploration) becomes old. Rather, what happens when the initial excitement of the whole new scene itself begins to wane — or even starts to become hackneyed or fractious? Here is a short survivor's guide to keeping yourself above the fray when your fractal scene starts to chafe. You should probably start worrying when…
…when it dawns on you that all those swooning threads that sing the praises of your art work just might be a) insincere and/or b) come with attached strings. Yes, you reap what you sow in social networking circles. Remember the Fractalbook Golden Rule: The praise you take is equal to the praise you make.* Such a Fractalbook double-bind is surely a devil's bargain. While it's true all artists have to take some initiative to market themselves, I question whether daily smoozing and exchanging virtual hugs and critical kisses counts in this regard. How many more (and innovative) art works could you have composed in the time you spent stroking the work of others in the hope that you'd be stroked in return? And do you think such a environment of virtual Snuggies is helping to make you a better artist? Or does it instead help perpetuate the very kind of artistic sameness and stagnation that concerns Madman?
…when the Reformation takes you by surprise. No matter how blissful your current scene might be, some kind of Great Schism will likely occur sooner or later. Let's face it. Artists are human and susceptible to flaws like being extremely competitive and having bombastic egos (could those pernicious "you're a genius" Fractalbook threads be to blame?). Eventually, sad to say, a parting of the ways will likely take place. Leader-types will emerge — be they programmers, content providers, or just outspoken theorists — and factions will be established. Your once harmonious safe house will no longer be big enough. One group will move out to seek their own FAME and fortune on their own terms. As we know, a house divided against itself cannot stand.** Rather, it usually leads to new schools in the suburbs. Prepare yourself. You may eventually have to face a decision of whether to choose sides or try to remain neutral as best as you can.
…when the NEW IMPROVED new shit abruptly appears and renders your scene suddenly old school. This social iteration could be programmatic — like a new and innovative program. Or it could be theoretical — like discovering 4D fractal exploration. You've seen it happen before. Fractint begets Ultra Fractal. Quats beget flames. 2D begets 3D. What's new eventually wears out — especially when overplayed or mass-marketed to a saturation point. Look at the film industry. 3D is the new shit. Or is it — when it's patched on by default as a marketing tool? Did 3D "save" the critically shellacked The Last Airbender? My wife and I paid $7.00 more last weekend for the privilege of seeing Tron: Legacy in 3D. We both felt the experience would have gone down just as well and more cheaply in 2D. Remember. Fractalbook is the vehicle for the saturation marketing of fractal art, and 3D fractal renders now appear in these venues with increasing frequency. How long before the glut of "spirally thingies" that Madman laments in the FF post becomes a Google search that leads to a 95% engorgement of 3D thingies?
…when you fail to do your homework and rely instead on others for your artistic opinions, techniques, and aesthetics. You know, those in the know in your fractal scene might in fact know next to nothing. About things like copyright. Fair Use. Protecting your intellectual property. Making prints. Making art. Don't blindly trust the word of anyone (including OT). Find out for yourself. Get a cross-section of opinions on a subject like whether fractal "tweaking games" are a good practice for serious artists. Weigh carefully the views of your virtual friends against that of an experienced artist like Jos Leys when he says in an OT comment thread that
I've always felt that posting a UPR to the [Ultra Fractal Mailing] list is as good as declaring it in the public domain, copyright notice or not. If you want to 'own' something, then do not post it.
and then decide for yourself whether posting your parameter files or tutorials of composing secrets on the Web for the world is a sound artistic practice. I once urged OT's readers to "make the art that pleases you," and not the art that pleases anyone or anything else. That way, if your scene folds up or freaks out, you're still covered.
Your Penpal
~/~
Dear Diary,
In the same Fractal Forum thread, I was bemused to find this observation by Dave Makin:
Certainly at the moment I do not believe that the best fractal art gets the credit it deserves as far as the "art world" or "general public" are concerned but over time this is bound to change, especially given the sterling work of many such as those who organised the exhibitions in conjunction with the Mathematicians Congress…
Makin is referring, of course, to the Benoit Mandelbrot Fractal Art Contest (BMFAC) — a competition in which he is the only three-time winner. Should this particular venue become a success, it is debatable whether the "best" fractal art would make inroads to either the conventional art world or the general public. I do think it's safe to say that such a development would be what is personally best for Dave Makin.
But in order for either of these scenarios to come to fruition it would first have to be shown that the BMFAC exhibition last August in India at the International Congress of Mathematicians actually occurred. Nothing has changed since I posted earlier on OT that there's not a shred of proof on the Web that the exhibition ever took place. Nothing on the BMFAC site. Nothing on the 2010 ICM site (search it yourself and see). Google the competition and you'll (eventually) find info about the two exhibitions in Spain and one in Argentina, but absolutely nothing about the main hoopla-heavy exhibition in India. Sandra Reid, a BMFAC winner, did post this information, which she presumably received from the contest organizers:
Unless the local media in India provide any coverage of the exhibition it is unlikely that there will be any photographs or live footage of the exhibition as there is a complete ban on any electronic equipment in the venue.
Yet, oddly enough, there is a separate page for photos from the conference on the ICM site. Therefore, in the public interest, and since I got no answer the first time, I'll repeat once more what I said several months ago:
And, reportedly, everything electronic is banned? No cameras? No laptops? No cell phones? No pictures at all — even of the exhibition set-up before the conference started? That's a serious lockdown. So serious, in fact, it keeps the exhibit's administrators from even now using a computer to write about the show [emphasis mine].

Now, why might the BMFAC administrators — who twice previously finagled the means to display their work and that of their contest judges beside the work of contest winners — deliberately not want a smidgen of publicity about their previously ballyhooed exhibit?
So, in deference to Makin's point, I feel that BMFAC can only nudge fractal art to broader cultural acceptance if its organizers take the pains to somehow make clear that the exhibition was — well, you know — exhibited.
I suppose, as we wait (and wait) for definitive BMFAC documentation, we can keep hope alive*** that c.kleinhuis is correct when he claims in a recent OT comment:
in 2011 fractal art will evolve like a phoenix out of the ashes, and it will receive vastly more public attention, and it will become a "real" art-form, because i know many people on the forums are preparing real-exhibitions with tremendous fine art printings…
I imagine the folks behind the late (rather than the re-phoenixed) Fractal Universe Calendar [link appears down] once felt the same way. Or was that before their scarf out of spirally thingies sucked up 95% of Google fractal art image searches?
Your Penpal
~/~
* with apologies to the Beatles. ** with apologies to Abraham Lincoln. ***with apologies to the Obama campaign.
Back in the Halcyon group-hug salad days of Orbit Trap, I put up a post about titling. I used my own images (and several others) to investigate whether titles unfairly nudge viewers to the artist's interpretation or favorably provide additional meaning-making material. I'd like to re-visit the question using some images I recently saw on Fractalbook.
Since fractal images overwhelmingly tend to be non-representational, this question of the perceptual influence of titles has more than a passing importance for fractal artists.
~/~
Just as kind of context refresher course, here's what I said three years ago:
Names don't have to be overly prescriptive. Viewers will still see whatever they prefer. Or, of course, they can categorically resist and deep six any title you've labored for hours to concoct.

But names can be like those mannequin torsos found in style shops. They at least provide a working semblance to hang up some preliminary but pricy rags of meanings that viewers might eventually buy.

Names also hint at an image's "personality" — possibly providing a snapshot of its heuristic psyche.

And that's where crucial artistic decisions come into play. These critical first impression snapshots often set the ground rules for an image's tone and mood. Without such delicate pre-viewing preparation, a viewer's response to your labor of love could be nothing more than a mumbled Huh?
Here we go. Ten images. Forty answer options. Score yourself via the grading grid provided at the end of the post. You can, of course, find the correct title by clicking on each image to view its source page. But, as the administrator of this quiz, let me point out that doing so would be cheating. So. Do not open your instruction booklets images until instructed to do so. Begin.
~/~
? by gateman45. Seen on Renderosity.
(a)_____The Hand of Orloc
(b)_____Hello, It's Me
(c)_____Terminator Leftover
(d)_____Rake Roomba
? by Lenord. Seen on Renderosity.
(a)_____Journey to the Center of the Inner Ear
(b)_____Sunrise on Tatooine
(c)_____The Land of the Sandkings
(d)_____Clean-Up on Aisle #9
? by claude19. Seen on Renderosity.
(a)_____Death of Blue Beetle
(b)_____Truck with a Hemi Buyer's Remorse
(c)_____The DRAMA…on the Other Side!!!
(d)_____Postmodern de Kooning Woman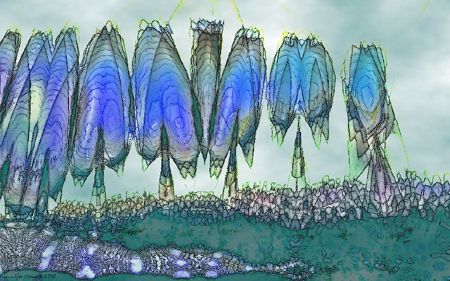 ? by Jennyfnf. Seen on Renderosity.
(a)_____Faery Ring
(b)_____Early Morning Poppies
(c)_____Manta Ray Formation
(d)_____Root Rot Begins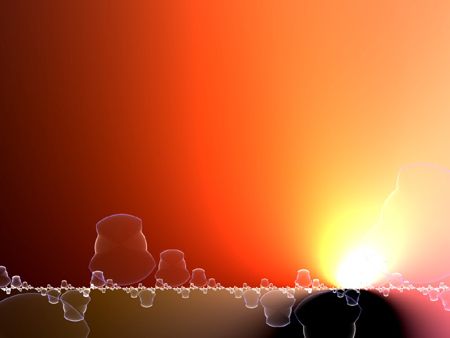 ? by stereo cyclop. Seen on Renderosity.
(a)_____Go Towards the Light
(b)_____Elf Maid's Pets
(c)_____Condensation
(d)_____Don't Cry Over Boiled Milk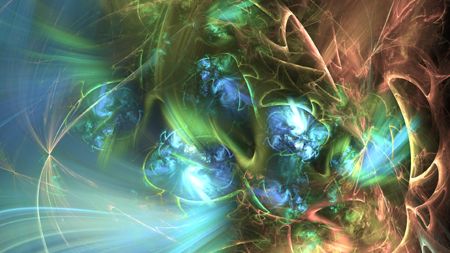 ? by Cov1ous. Seen on deviantART.
(a)_____Sea Anemones
(b)_____Silly String Accident
(c)_____Northern Lights in HD
(d)_____Rampant Energy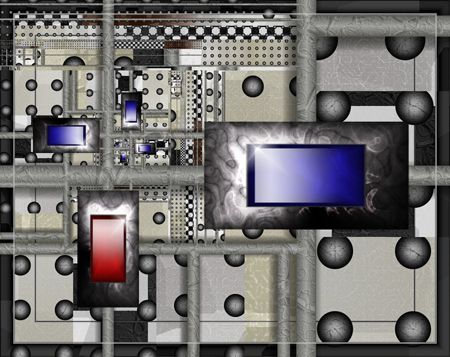 ? by dagian. Seen on deviantART.
(a)_____Motherboard
(b)_____Jack That Meat
(c)_____The Outsider
(d)_____Recursive Doorbell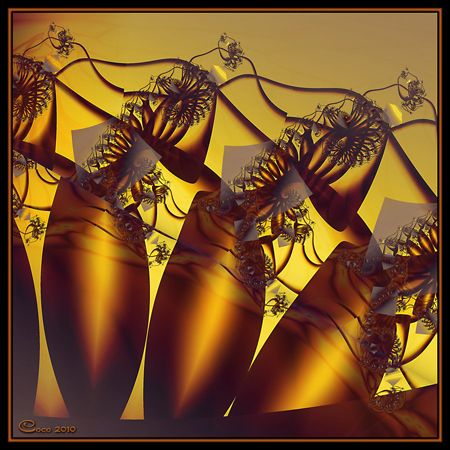 ? by kayandjay100. Seen on deviantART.
(a)_____Sunrise on Cassiopeia
(b)_____Cockroach Chorus Line
(c)_____Gone Viral
(d)_____Xtreme Manicure
? by russianlad. Seen on deviantART.
(a)_____24
(b)_____175
(c)_____490
(d)_____Hike
? by eReSaW. Seen on deviantArt.
(a)_____The Butterfly Effect
(b)_____Mr. Bombastic
(c)_____Bad Dancer
(d)_____Streaming The Fly
~/~
This examination is self-graded. Score yourself according to the following scale:
10 out of 10 — Precog Emeritus
8 out of 10 — Genius Grant Material
6 out of 10 — Lucky Ducky
4 out of 10 — Good Guesser
2 out of 10 — Try Working with the Drugs
0 out of 10 — Stick to Numerical Titles Only
~/~
Addendums:
Just want to remind readers again that Orbit Trap does sometimes publish guest posts on fractal art topics. If you'd like to write something for us, please contact the contributors with a query to orbittrap(AT)ambaka.com.
Although Orbit Trap has no links page, there are some good fractal blogs tucked away on the Internet tubes. Here are two I enjoy. Both bloggers are learned about both fractals and art:
Algorithmic Worlds. Samuel Monnier's blog. Technically in the know and on the edge. Consistently thoughtful and informative. Great eye for composition and use of design elements.
FractalMix. Guido Cavalcante's blog. Politically savvy — the artist as a witness to history. Consistently articulate and experimental. Few in our field know as much about art history and aesthetics.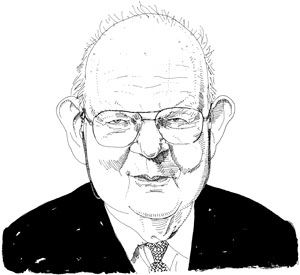 "Think of color, pitch, loudness, heaviness, and hotness. Each is the topic of a branch of physics."
Drawing seen on foreignpolicy.com.
…into history.
From pcmag.com:
Benoit Mandelbrot, the father of fractal geometry, has died at the age of 85, the AFP reports. The French-American mathematician discovered mathematical shapes called "fractals," and developed a geometry that was used to analyze naturally occurring shapes that were previously thought unmeasurable.

[…]

Mandelbrot was born in Poland in 1924. He and his family immigrated to France in 1936 to escape the Nazi regime. According to the Times obituary, he had more than 15 honorary doctorates and was on the board of a multitude of scientific journals. In 1987, he began teaching at Yale, where he was a Sterling Professor Emeritus. In 1993 he won the Wolf Prize for Physics and in 2003 he was awarded the Japan Prize for Science and Technology, the AFP reported.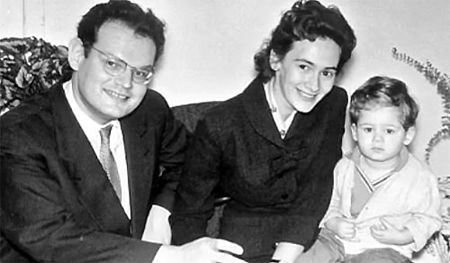 "For much of my life there was no place where the things I wanted to investigate were of interest to anyone."
Photograph seen on nowscape.com.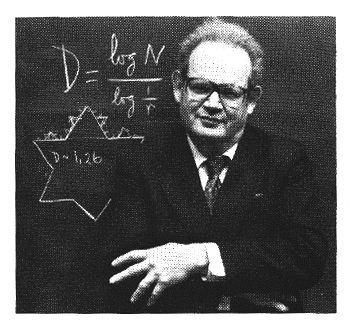 "The existence of these patterns [fractals] challenges us to study forms that Euclid leaves aside as being formless, to investigate the morphology of the amorphous. Mathematicians have disdained this challenge, however, and have increasingly chosen to flee from nature by devising theories unrelated to anything we can see or feel."
Photograph seen on missioncollege.org.
"Why is geometry often described as 'cold' and 'dry?' One reason lies in its inability to describe the shape of a cloud, a mountain, a coastline, or a tree. Clouds are not spheres, mountains are not cones, coastlines are not circles, and bark is not smooth, nor does lightning travel in a straight line… Nature exhibits not simply a higher degree but an altogether different level of complexity."
Drawing seen on Caricatures of Computer Graphics Researchers.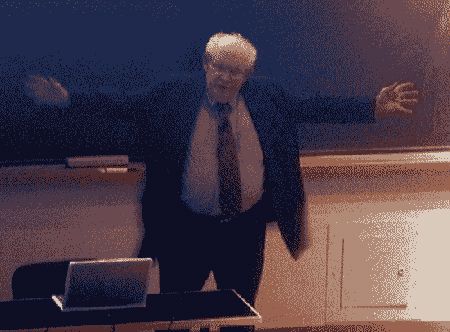 "…science is cumulative and art is not."
Photograph seen on Blacklog.
Thanks for the memories — and for all the fractals — both those that are — and those that are to come.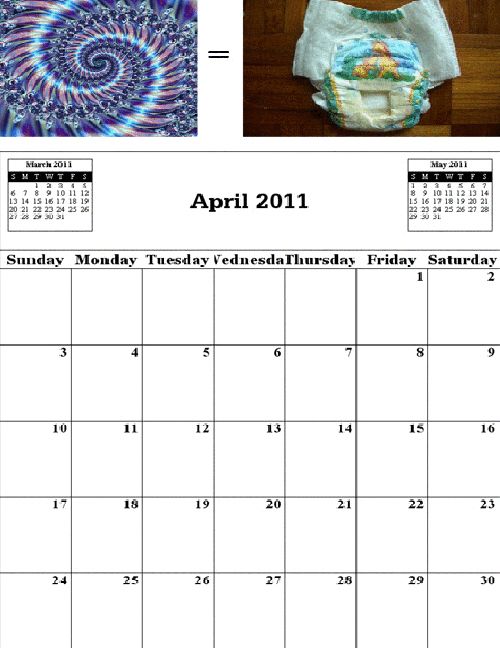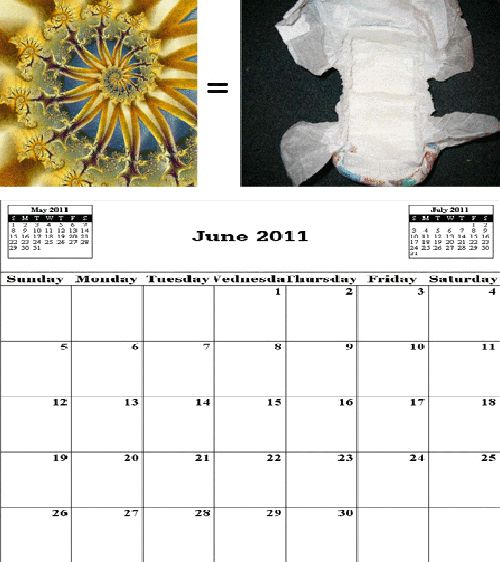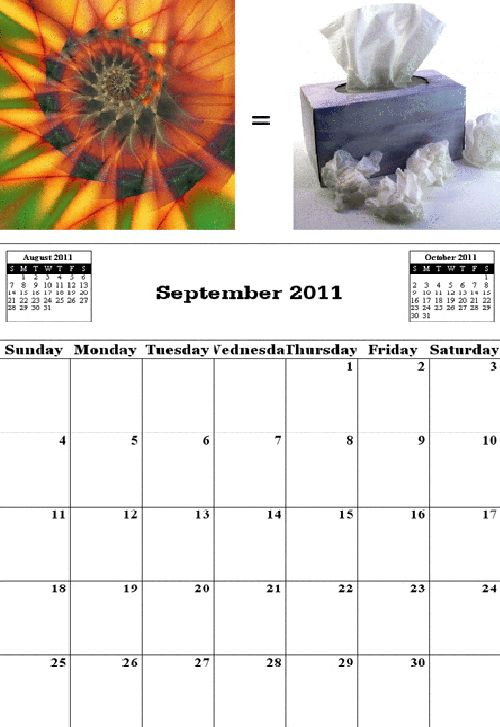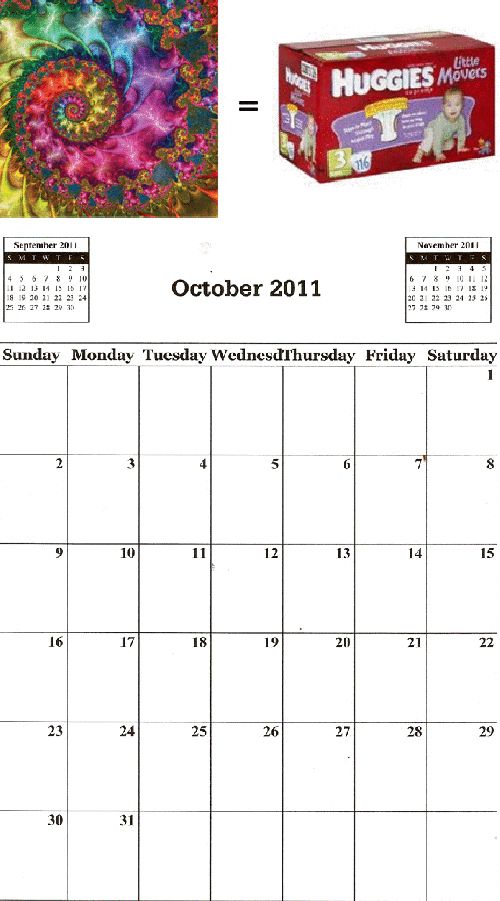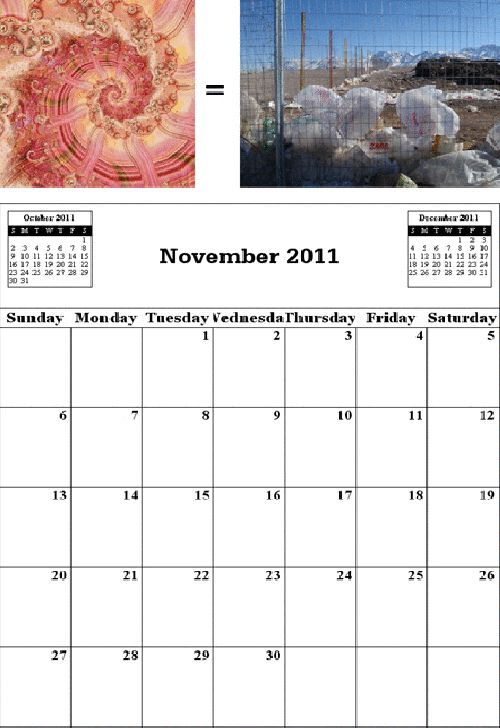 ~/~
Fractal images seen on galleries at the Fractal Universe Calendar page. I'd mention the artists' names, but, of course, since the product was meant to be thrown away, like a soon-withered bouquet, no artists are mentioned on the site's main splash page — well, other than the New Master of the Fractal Universe.
The finest quality materials did not go into the creation of this free parody calendar because this particular disposable product was designed with planned obsolescence in mind. And, yes, I tend to think the same could also be said of the source.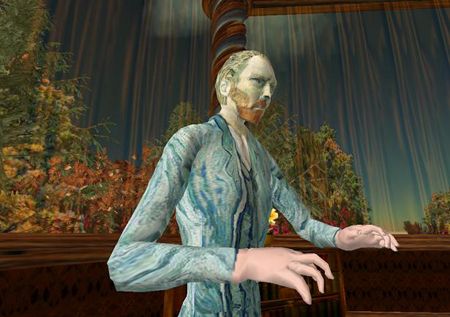 If you're a critic on the Internet, everyone can hear you scream.
–Cameron Woodhead, The Sydney Morning Herald
Image seen on blog.hr.
It should go without saying that when folks speak out about OT in online public forums, I can hear them. Sometimes, I like to return the favor of pleasant conversation I guess this tendency to further discussion is my variation of what the yakkers on the Ultra Fractal Mailing List call "tweaking."
OT's last several posts apparently rattled a few cages and disturbed the dust under some bridge beams.
Let's go right to the footage.
~/~
Keith Mackay, former Fractal Universe Calendar (FUC) editor, cares little for the "2011 Fractal Universe Calendar" published by Moseley Road. His assessment:
In my humble opinion, that calendar has the ugliest fractal art in it that anyone could have ever assembled into a calendar. A four year old could have created those images.
But, as Tim recently showed, thanks to the efforts of Mackay and the other FUCsters, fractal art is now just bulk manufacturing and as easily procurable as a jaunt to the florist.
Or, perhaps, a spin through the doughnut shop drive thru? Just grab a dozen to go. Crash aesthetically when the spirally sugar rush wears off. Hope each sweet fractal treat doesn't become stale before a given month expires.
In my humble opinion, Mackay's remarks are somewhat hypocritical, since, as a previous FUC editor, he was an enabler who fostered the very commoditization and disposability of fractal art promoted by a longstanding string of soon-to-be-chucked-out FUC product. The Moseley Road 2011 variant is just the latest iteration of the Frankenstein that MacKay and the other FUC editors and artists brought into being. Now, Mackay finds his offspring ugly as it slouches towards Amazon (along with other FUC wannabes) and returns prodigally home like a nomadic, abandoned family of artistic reapers.
Mackay, however, only dislikes selective FUC clones. He reports that Cornelia Yoder, the New Master of the Fractal Universe, wrote him with the happy news that
[T]he original Fractal Universe Calendar, the one published by Avalanche Publishing that I edited for a couple of years, is still alive.
to which Mackay's response is
Cool.
See? It's all good. And how does Mackay explain FUC's rise from the remainder bin with Yoder as the lone flower arranger? Because
It makes sense that they would only have one artist. To survive, businesses are all about cutting costs and it probably costs more to deal with one contract than it does to deal with several.
Yes, that makes sense — unless you are sentient. If the markets are cutthroat and publishers are tightening their belts, why are there now three FUC clones instead of only one? And if it costs more to write the one contract for Yoder, then why would publishers abandon the previous multi-artist format if it was cheaper?
Sadly, what's really been cheapened are both fractal art and fractal artists. Just toss twelve long-stemmed fractals in the blender and spin. And, in the end, nobody remembers the name of the flower arranger.
~/~
For those keeping score at home, there is now an unholy trinity of FUC-influenced calendars:
1) The Infinite Creations Calendar from Orange Circle Studio. This one was solicited/edited by former FUC editor Panny Brawley. Presumably, other ex-FUCers are included/involved. The blurb says that
renowned fractal artists push their art to extremes and guide you on a journey through their infinite creations.
In fact, the artists are so renowned that no names are mentioned anywhere in the promotion — probably because the publishers have learned that fractal art is a disposable commodity — like plastic silverware and Styrofoam cups.
2) The "2011 Fractal Universe Calendar" from Moseley Road Publishing. Although the fractals here are described as "visually arresting," most appear to be default random batch renders, so no artistic skill was required for their creation (although, given the choice, I'd rather look at these than at saccharine spirals). Again, no artists are named in the promotion — probably because the publishers now believe that fractal art is a throwaway trade good — like the plastic Wal-Mart sack you use to scoop out your cat's litter box.
3) The Cornelia Yoder solo project, presumably also to be called the "2011 Fractal Universe Calendar," from Perfect Timing (who bought FUC's original publisher, Avalanche Publishing). Although this calendar, at present, has yet to be printed, this did not stop Yoder from making the modest announcement on the UF List that
All of the images in the calendar are mine this year.
which conveys a tone not unlike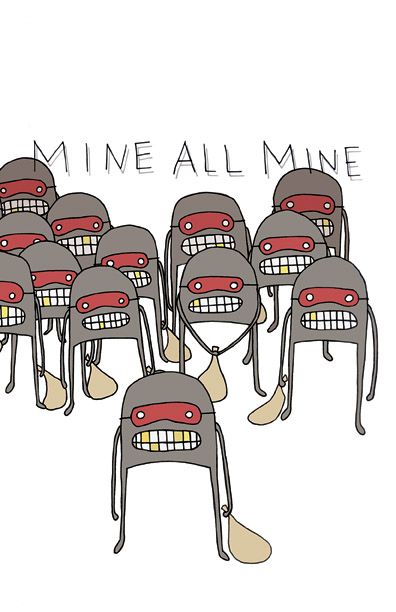 And here we see calendar publishers lining up to collect their lucrative bag-o-fractals.
Image seen on ghettoManga.
Yoder also took issue with my last post about her dumbstricken ascension to the FUC mountaintop by noting
I never pay any attention to that particular source of misinformation [Orbit Trap], but I see they are confused as usual. The "2011 Fractal Universe" calendar they are showing in that blog has absolutely nothing to do with the one I'm involved with…
but, of course, there was no confusion. What I said was
It seems doubtful that Yoder will actually get to use the Fractal Universe moniker for her solo project because it appears Avalanche has sold the franchise — or, at any rate, turned a blind eye to its appropriation, as evidenced by this "Fractal Universe Calendar" printed by Moseley Road Publishers.
so I understood there were actually three separate calendars, even if two appear to have identical titles — a situation which Keith Mackay described as "messed up" — proving that he and I can finally agree on something.
I await with typing fingers the release of Yoder's calendar and hope it, too, will be "visually arresting" as it nestles prettily arranged in its own calendrical vase. After all, Yoder says:
I hope that I have provided images in the same style as many of our community have in the past.
I think it's safe to say that I will be — what's the word — "flabbergasted" if such is not the case.
~/~
Yoder's poke at OT brought a few other get-off-my-lawn grumblers on the UF List out from under their shaded porches. Here's Dave Makin:
As to a certain blog [Guess Who?], the authors are so obviously biased against any commercial fractal software that I now ignore their opinions completely.
Should I repay the favor and ignore Makin's opinion — especially since I use commercial software in my own work all the time? Could Makin be projecting instead about how he imagines I feel about a certain commercial software for which he currently serves as chief apologist?
Makin further states that
I have to disagree with much of their [That Would Be Us Again] statements regarding the Benoit Mandelbrot Fractal Art contests primarily because I simply consider those on how close to my own choices of winners the panel's decision was and they always did quite well IMHO…
No doubt the selection panel's choices coincided with Makin's own. I can think of one person who has consistently done quite well in BMFAC. Three-time contest winner Dave Makin.
BMFAC judge Mark Townsend also dropped by to convey these words of wisdom:
[M]any artists and art appreciators (and therefore a major part of the "mainstream" art world) are not normal people. I'd say they are more progressive, and more open to new experiences than "normal" people. However they can be snobs, which is why fractal art works probably need to be isolated from the kitschiness of the Fractal Art scene before they can be recognized.
To which Paul N. Lee adroitely replied:
Something else that Orbit Trap has been saying for quite a long time now.
And, finally, Ken Childress, still awaiting his Nobel Prize in Rhetoric, and who has not updated his anti-OT blog since mid-January because "OT has been reasonably non-controversial" (we must be slipping), blew off the cobwebs and mustered the strength to fire this shot:
[W]hen they [You Guessed It That's Us Again] talk about UF, calendars, the BMFAC, they are anything but objective. They have very negative attitudes and biases against these events and the people involved in them. So much so, that they often resort to making misleading comments and innuendos, and sometimes outright lies about the events and people.
Am I making "misleading comments" or biased against BMFAC's administrators because I ask that they break their silence and provide some physical proof that their showcase exhibition in India actually took place?
When engaging in discourse (and I use the term loosely) with Childress — for whom his every thought is instantly reified as consummate truth — one quickly discovers that things like "negative attitudes," "biases," and "outright lies" are nothing more than opinions with which Childress disagrees. One thing actuates him: to squelch everything that rubs him the wrong way.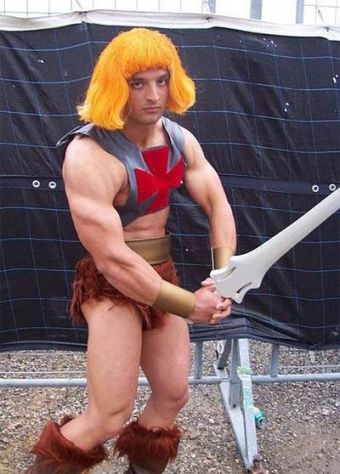 Cornelia Yoder: "I was pretty flabbergasted, but did as they asked."
It still isn't safe to wander into your favorite mall gift shop or bookstore. After seemingly undergoing a well deserved decapitation, the staple of fractal schlock, the Fractal Universe Calendar (aka FUC), has recently grown several new Hydra heads.
We've often been critical of Fractalbook's foibles on OT, but one thing these cozy, socializing conclaves do well is encouraging one to trumpet his or her own horn. For a topical case in point, here is Cornelia Yoder yesterday on the Ultra Fractal Mailing List:
Today in the mail I received my artist's copies of the 2011 Fractal Universe Calendar, published by Avalanche Publishing (now owned by Perfect Timing, Inc). It's supposed to be available in stores soon.

All of the images in the calendar are mine this year. I was approached by Perfect Timing a year ago to submit a set of images for them to choose from, for a "single artist" Fractal Universe Calendar for 2011. I was pretty flabbergasted, but did as they asked.

Then a couple months ago, they asked me to do it again for 2012. I suggested they go back to soliciting images from the entire fractal art community and offered to be the editor since Panny no longer wanted to do it, but they refused that idea. Apparently they had had too much trouble with so many contracts, images not on time, images not in the right format, etc. So I guess I'll also be doing the 2012 calendar.

I believe that Panny had gathered images for a different calendar to be published by a different company made up of some of the Avalanche people who did not go to Perfect Timing. I'm not sure the status of that, nor what it will be called, but if it lasts, it may be a route for others to have calendar opportunities. At least I hope so.
I'm guessing I'm not the only one who is "flabbergasted" over this elevation of Yoder to the status of a fractal grandmaster — over becoming the Chosen One kicked upstairs to replace FUC's previous parade of mainstream fractal stars — especially considering that Yoder sometimes enjoys putting out material like this:
"Woof. An overnight stay in a veterinarian's cage sure beat being trapped perpetually in this bathetic fractal universe."
Puppy01 by Cornelia Yoder. More here for those pre-dosed with reflux medication.
It seems, though, that multiple fractal calendars are sprouting through sidewalk cracks like pesticide-resistant weeds, and that Panny Brawley, a former FUC editor, takes issue with Yoder's accusations that Avalanche Publishing "had too much trouble" with past calendar artists getting their act together handling contracts, missing deadlines, and failing to comprehend proper file formats. Brawley says:
And here is the link to the Calendar I edited for 2011 for Orange Circle Studio — Called the Infinite Creations Calendar, published by Orange Circle Studio.

The head of Avalanche (who moved to Orange Circle) approached me with the offer to put together a fractal calendar for them, and the link below shows more of the content than that of Orange Circle. As long as I edited the Fractal Universe Calendar, I have no memory of any image not making it in on time, or in the right format.

You can zoom into each of the 2011 images here:
http://www.amazon.com/Infinite-Creations-Fractal-World-Calendar/dp/1608970531
Whatever other problems the original FUC had, like running a competition that heavily favored past and present editors, the selection process seemed to run fairly smoothly, so I suspect Yoder is merely parroting the company line and hoping readers are naive enough not to do their homework. I think there are far more direct reasons why Avalanche (and now Perfect Timing) nixed the idea of "soliciting images from the entire fractal art community" — like this and this and this and this and this and this.
It seems doubtful that Yoder will actually get to use the Fractal Universe moniker for her solo project because it appears Avalanche has sold the franchise — or, at any rate, turned a blind eye to its appropriation, as evidenced by this "Fractal Universe Calendar" printed by Moseley Road Publishers.
But let's be honest and stop pretending here. None of these fractal calendars matter from an artistic perspective. There's a reason why the artists' names do not appear on promotions for either the Orange Circle or Moseley calendars. These ventures are strictly about racking up sales — not disseminating art. The aesthetic that drives these calendars is one of extreme ornamentation and more closely aligned to digital flower arrangement than to artistic production. Just rearrange the spirals and ribbons and feathers into variations of the same gaudy bouquet, then repeat the template endlessly. Anyone who's in the market for this gooey eyecandy need go no further than to their corner florist to pick up what purports to be world class work. What all of these publishers should really do is just give away blank calendars and let buyers make their own fractal art. That way, purchasers will have better odds of receiving a top-notch product.
I find this work menacing/playful because of the way the optical suggestions of the purity of line makes resonant the larger carcass.
Review courtesy of the The Instant Art Critique Generator.
The 2009 Benoit Mandelbrot Fractal Art Competition's crowning exhibition at the International Congress of Mathematicians in Hyderabad, India, ended two weeks ago. No doubt, like many fractal art enthusiasts, you've been excited by what you've seen from this event that embodies the lone international show devoted to fractal art.
What? You say you've heard or read absolutely nothing about the ICM showing?
Console yourself. You're not alone. To date, there seems to be no web coverage whatsoever of the BMFAC show in India.
The main BMFAC site has been silent about this (or any) exhibition since announcing the contest's winners over a year ago. In fact, I suspect, without Orbit Trap, many of you would also know nothing about the earlier and previously unannounced BMFAC exhibitions held months ago in Spain. The ICM site, which presumably just hosted the exhibition, still contains no information about the show at all — even if one searches the site for terms like "mandelbrot" and "fractal."
So, forgive me for asking, but did an exhibition take place?
I did find a source that noted the BMFAC show, after two Spanish stops, spent six days in Argentina before ostensibly shipping out for India. According to Pagina/12, BMFAC opened last June at the 6th International Conference of Mathematics and Design. The article nicely highlights Argentinean artist Silvia Dunayevich and offers a brief history of fractals. It also provides a few tidbits about the exhibition itself — like noting that (co-director?) Javier Barrallo "curated the exhibition." A more surprising revelation was this:
La Sociedad Científica Argentina (Santa Fe 1145) opens its doors today to a sample that includes twenty-five works by authors from eighteen countries, selected in the International Art Competition Benoît Mandelbrot Fractal, which is named after the discoverer of fractal geometry. From Manhattan, it was he who chose the works…
So, if Benoit Mandelbrot selected the winning entries — by himself — then don't BMFAC's selection panel members with a few conflicts of interest become something else — like more properly screeners — or, at any rate, doing screening beyond (co-curator?) Damien M. Jones' initial sorting of contest entries?
Actually, I suspect this account of Mandelbrot single-handedly plucking BMFAC winners in the Big Apple is likely a case of misreporting or mistranslation. But here's the thing. In the pervasive publicity vacuum that consistently surrounds all things BMFAC, how can one ever be sure?
The only web reference with any specifics I can find about the exhibit in India comes from BMFAC winner Sandra Reid's blog. Reid, who presumably was contacted by either (curator?) Barrallo or (web hoster?) Jones, reports that
The Benoit Mandelbrot Fractal Art Exhibition will run for the duration of the ICM but is only open to mathematicians attending the event.

Unless the local media in India provide any coverage of the exhibition it is unlikely that there will be any photographs or live footage of the exhibition as there is a complete ban on any electronic equipment in the venue.
I see. Or do I? Only conference participants — that is, mathematicians — could view the exhibit? I hope there was plenty of informational printed material explaining the connection between the mathematics and the visual images. Otherwise, might the mathematicians been more comfortable perusing the par files of images rather than the exhibited prints?
If you don't find the audience limitations of BMFAC's show just a bit strange, then please consider the inverse of the situation. I propose a fractal art exhibition strictly limited to a viewing by visual artists — but instead of showing prints of fractal imagery, text printouts of the forumlas used to create the images will instead hang inside the frames. Does this make any sense? If not, then why is the opposite plausible?
And, reportedly, everything electronic is banned? No cameras? No laptops? No cell phones? No pictures at all — even of the exhibition set-up before the conference started? That's a serious lockdown. So serious, in fact, it keeps the exhibit's administrators from even now using a computer to write about the show.
Now, why might the BMFAC administrators — who twice previously finagled the means to display their work and that of their contest judges beside the work of contest winners — deliberately not want a smidgen of publicity about their previously ballyhooed exhibit?
And therein lies the problem when you run a contest that culminates in an international art exhibition about which the directors remain consistenly silent. Interested parties are left stranded and forced to rely on their own devices — like speculation and reading between the lines.
My blogging slows down in the summer when other projects get moved to the front burner. But I'm still lurking around.
The 2009 Benoit Mandelbrot Fractal Art Contest exhibition begins in a little over a week in Hyderabad, India, at the 2010 International Congress of Mathematicians, although (so far) publicity for the event has been zilch. On the main BMFAC site, there has been no information whatsoever about the exhibition at the ICM — or, for that matter, the two earlier shows in Spain. The main ICM page also says nothing about the exhibition — even if one searches the site for terms like "fractal" and "Mandelbrot."
I hope the main BMFAC site will eventually put up some documentation about the 2009 show. After all, why go to the trouble to stage an international fractal art exhibit, and then act like the whole thing is some kind of classified secret?
Unless, for some reason, something about the show does need to be kept under wraps.
~/~
And this came across the transom of the Ultra Fractal Mailing List recently:
From: Frederik Slijkerman <info@ultrafractal.com>
Date: Sat, Aug 7, 2010 at 7:14 PM
Subject: [ultrafractal] IMPORTANT: Ultra Fractal mailing list has been moved
To: "ultrafractal@lists.fractalus.com" <ultrafractal@lists.fractalus.com>

Hi everyone,

The Ultra Fractal mailing list has been moved to the main ultrafractal.com server, so it also has a new address:

ultrafractal@list.ultrafractal.com

[…]

As you may know, until now this mailing list was running at fractalus.com, administered by Damien Jones. Damien has very generously offered server resources and his free time for more than ten years now, and I believe it is time for me to take over this task. Thank you, Damien, for everything you've done during all these years.
OT readers might recall that the main Ultra Fractal site moved off Fractalus earlier this year. No explanation (other than what appears above) was given for moving the site and list off Jones' server. Last summer, after Fractalus went dark for a time, Jones offered this enigmatic statement on the UF List:
My role as a web site host is no longer required, and I cannot fulfill that role adequately in any case (especially not for those sites that have moved on).

Nothing stays the same forever. Nor should it.
Nor did it, apparently, although, like so many of Jones' activities, the reasons for this UF hosting break remain strictly hush hush.
But I do see some progress. At least Jones didn't resort to his previous tactic of booting folks (who merely disagree with him) off Fractalus by ginning up phony charges of protecting his server from alleged "security threats."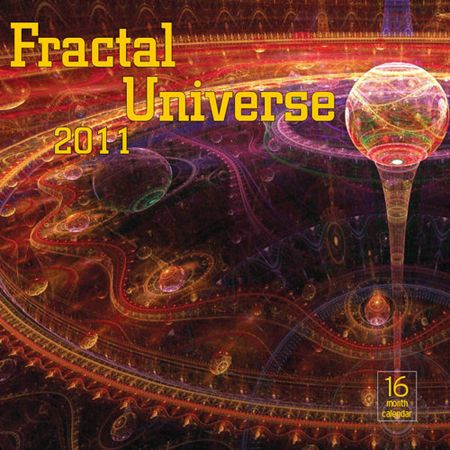 I've been reiterated from the undead.
[Image seen on Amazon.com.]
The Fractal Universe Calendar (FUC) returns with a makeover.
Previously put out by Avalanche Publishing, it is now under the aegis of Mosely Road Publishers which describes it as
full of the most visually arresting fractals.
Let's see if you agree. Here's a sneak peak: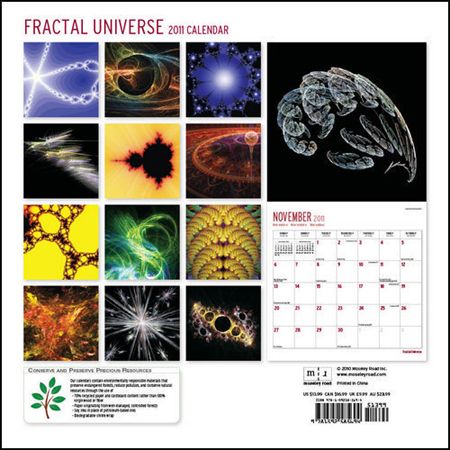 Fractal like it's 1999.
[Image seen on calendars.com.]
Now, are you ready to hear a litany of complaints from me about the ethics of this venture. Okay. Here goes…
I don't really have any.
That's because my concerns about previous iterations of the FUC sprung from the manner in which it was administered. The old FUC was clearly a competition, despite its organizers' protests to the contrary, and one that too comfortably favored the work of present and former editors — sometimes to the tune of 40% of the selected material. Editors were compensated by having their own work included — and then were allowed to send more of their own work on to the judges — who, oddly enough, were never identified. In other words, the whole shebang was ethically suspect.
I have no idea how the new FUC is run, but I doubt it's a contest. There is absolutely no information on the web about any call for entries, rules, deadlines, and so forth. In fact, other than a few retail-based references, the only other link to the new FUC I find is on silwanka's deviantART page where she says she was "chosen" for this new calendar. Therefore, I suspect the publisher directly contacted each of the included artists.
This is how the whole enterprise should have been run from the start. As a commercial venture, calendar publishers want to sensibly make a profit and thus will likely select whatever work they believe will sell. What they can't do, ethically anyway, is run a thinly veiled contest that inordinately favors its own current and past administrators.
So I have no reason to question the ethics of new FUC. But I do have a few observations.
* How can the new publishers use the same title for their calendar? A quick glimpse at the old FUC page claims that the "Fractal Universe" name is a registered trademark. Did Avalanche sell the rights to Mosely Road? Or is there so little financially at stake here that Avalanche hasn't bothered to challenge the trademark infringement? Or is this a completely new venture — and no one apparently cares enough about the whole thing to be bothered by the appropriation?
* It's nice to see a bit more variety in the selections — and to even find an Apophysis image on the cover. Still, if you miss the eye candy laden aesthetic of the old FUC, you can always order the new Infinite Creations fractal calendar from Orange Circle Studio. This is the old FUC in spirally spirit (if not name) and promises that
in this calendar, renowned fractal artists push their art to extremes and guide you on a journey through their infinite creations.
Who these "renowned fractal artists" are isn't made clear from the promotional material. Still, you can see thumbs of this more FUC than the new FUC calendar on my last FUC post.
* The fractal artists, renowned or otherwise, aren't identified in promo stuff for the new FUC either. But we are told that their work is "visually arresting." And it is. If you plunged into a fractal hot tub time machine and wormholed back about ten years. To my eyes, these selections, with a few exceptions, look middlingly generic — and more likely to appear in a math textbook rather than a mass-marketed art artifact.
* It's worth pinching yourself and explicitly noting that all of this work is in a calendar and not in a gallery. Calendar.com tosses its fractal calendars into the "Fantasy Art" bin. So, included "renowned artists," before your heads get too big, just remember that you're rooming with unicorns, faeries, hobbits, dragons, wizards, elves, goddesses, shamans, muses, and pixies. Does that elbow-rubbing ground you any?
* As for the question as to whether or not these commercial products — soon to be showcasing fractal art in bookstores and strip mall gift shops near you — is a fair, representative sampling of the artistic capabilities of our discipline is one I'll leave for the blog's readers to mull over.
A framed print of To the Joust.  My cat studies its intricacies for hours.
I'd like to talk about my experience with making prints.  Let me begin by making clear that I'm not claiming to be any kind of expert in this area.  There are plenty of professionals who know more about the ins and outs of printmaking than I.  So, to show good faith, I'll provide some links to a few more learned people at the end of this post.  My purpose in writing about making prints is simply to give an account of my own experience — and to try explaining why the decision to make prints has re-shaped the way that I see and create art.
What first set my dials to printmaking?  Thinking about presentation methods was the initial baby step — and then beginning to explore various ways in which fractal/digital art could be showcased.  All artists (with a capital A) have multiple means of presentation.  A musician's song can be recorded, played live, played "unplugged," be utilized as background music in a film, be transformed into a visual narrative using video, and so on.  Likewise, a poem has similar possibilities for being displayed — read privately, read aloud, performed, slammed, audio recorded, video recorded, inserted into multi-media, and so forth.
Fractal/digital art is no different.  Such art can be viewed on a  home monitor, be uploaded to a Fractalbook repository to take its place amidst the socializing and tabulating, be printed (on either paper or canvas) and hung in a home-business-museum, be displayed digitally on a hi-def, large-screen state-of-the-art television, be printed in a book, shared as a par file, reduced to a navigational thumbnail, and — as we've seen from past OT posts about Phase Two thinking — be sculpted or painted or blown or constructed or imprinted on t-shirts, mugs, balloons, frisbees, and thongs.  The paradigm shift for me occurred when I made a conscious decision to present my work offline as well as online.
The first thing I vowed to do was to take presentation seriously — as seriously as I do my own art.  I began to research and quickly discovered that to make decent prints I'd have to render images at much larger sizes — and so I did.  I found it was not too difficult to render fractals at larger sizes, at least in the fractal software I use, but the extensive post-processing I commonly do could be a problem.  I began to experiment pushing the size constraints of my "studio" to discover the comfort boundaries of the computer I use to make art.  Each time I can afford to build a new machine, I try to make sure it packs affordable maximum firepower to enable me to work larger and faster.  I first stepped up to images sized at 1800 x 1200 pixels, and now I can work and post-process at the notorious BMFAC-required sizes of 8000 x 8000.
But not quickly.  Everything slows down considerably once you go large.  Render times drag.  Working in graphic programs like Photoshop take patience and medication/meditation when effects and adjustments slow to a snail's crawl.  One side effect, although not necessarily a bad one, is that the time lag corresponds to less output.  I probably (mercifully?) now produce 1/4th the amount of work than I did in the same time frame when I first discovered fractals.  Although I hope I'm more discerning about the work I now make public, it's also true that it takes me substantially longer to finish individual pieces.
There is another side effect.  My canvas is now six to eight times larger than it used to be — and, consequently, I've become much more particular about how that space is filled.  Artistic concerns — like texture, balance, highlights, dominance, unity, overall composition, and (especially) perspective — become more integral (and more time-consuming) in the process of shaping and finishing a given work.  In fact, in previous OT posts I've described the effect of increasing the digital canvas as a significant mental shift moving from perceiving work in "monitor mode" to perceiving work in "wall mode."  In other words, all through the composing process, I envision a work displayed large (wall mode) rather than small (monitor mode).
Once I made the conversion to wall mode, I then began searching for a professional Printer (I'm using the capital "P" to designate a person and not a machine).  Finding a good one turned out to be a difficult, hit-and-miss journey.  I've had no experience with places like Zazzle or the printing services provided on some Fractalbook sites like deviantART, but my experiences with online printing sites were frustrating.  The prints just looked funky — colors appeared over- or under-saturated, depth seemed washed out, and one image even came back exploded and reassembled as a neo-cubist collage.  Even several local print shops could not reproduce images to my satisfaction, although the turnaround time improved.
Finally, one afternoon, I saw a series of prints of nature photographs in a local museum.  The prints were breathtaking — exhibiting a clear sense of depth and a stunning clarity.  I called the artist for information, and he told me that he did the prints himself, and that he ran a print shop as a commercial venture.  I asked if he'd work with me, and he agreed — mostly, I think, because he'd previously worked exclusively with photographers, and he wanted to get some hands-on experience printing original, "pure" (his term) digital art.
I believe having a proficient, trusted Printer — one with an artistic eye — can make a noticeable difference in the quality of prints.  My Printer is exacting and takes pride in his work — making small test prints to see if color and resolution look right, or trying trial runs on various grades of paper to better obtain an ideal reproduction.  Again, taking your printing endeavor seriously is non-negotiable.  I insist on using the highest quality, archival inks and papers to try to produce professional Giclée (ink-jet) fine art prints. I was fortunate to find a Printer who is also an artist — and one capable of skillfully pulling off the sizable magic trick of bringing a digital image into the physical world.
You also have a decision to make at this point.  Should you use paper or canvas for a background?  In general, paper is the preferred choice for making archival, museum-quality, Giclée fine art prints.  Paper prints are de rigour for galleries and collectors, but they also come with their own set of problems.  They are delicate and can be easily damaged.  Smudging and sun-fading can occur, and liquids are their mortal enemy. So, paper prints must be matted and framed under glass to keep them safe — and, depending on the size of the print, the glass and frame can quickly become quite heavy.
Your other option is to print on canvas — although such prints seem to be less desirable for collectors and regarded by museums to be near-gauche.  Canvas prints, not surprisingly, are much more like a painting and are even stretched and mounted on a wooden frame — which means even large canvas prints are considerably lighter than small glass-enclosed paper prints.  Canvas prints, especially if covered with a protective lacquer, are certainly much more durable.  To my eyes, canvas prints tend to flatten out an image and degrade texture, but they retain more color richness and hue.  Paper prints, on the other hand, tend to lose bright colors a bit, or start to develop watercolor-like traits if the paper isn't well suited, but they preserve both texture and depth far better.  In a good paper Giclée, textured forms can become visibly embossed and take on distinctive 3-D qualities.
So, now you've worked large and made your print — what next?  Admit, as a digital artist, you are working with a generally agreed upon disadvantage.  You have no original — no concrete, tangible masterwork — no unique physical object, like a painting or sculpture, that can be shown or sold.  A painter, too,  can make high-quality fine art prints — but she or he also possesses the original painting — the mold from which copies, even Giclée prints, can be made.  Naturally, as a fractal/digital artist, you also have a master, as does, say, a digital photographer.  But such masters cannot function in the same ways as do paintings or sculptures.  (Or can they?  More on that later.)  Therefore, facing such an inherent shortcoming, how can you try to insure that your prints will have value?
You limit the number you make.  From what I can tell, practices on limited-edition prints vary widely.  You'll have to decide what idiosyncratic approach and commercial specifics best serve your needs.  What I eventually settled on doing was limiting each image of mine to a Variant Edition (V.E.) of 25 prints of any type or size.  That means only 25 prints — large or small, canvas or paper — will be made of any given image.  Once the 25th print of an image is made, I ask my Printer to delete the "master" file of that image from his computer.  I also allow making up to 2 "artist's proofs" per image — that is, running off a small number of prints for the artist's use that are set aside from the edition prints.  Artist's proofs, because they are more scarce, tend to be more valuable.
To further insure the legitimacy of the print edition, I sign, number, and date each print — and, of course, keep records of the printing history of each image.  I also provide a "certificate of authenticity" to be included with each print.  These are made using my production company stationary and include background information on the print — title, year it was made, edition number, Printer info, Framer info (if applicable), ink and paper stock information, caring for the print notes, process/composition notes, and background notes (when appropriate).  Some artists go further and take the step of having their print certificates notarized to further bolster authenticity.  I even saw one artist display and discuss his prints while wearing white gloves.  That might seem like overkill, but the gloves made an impression that stuck with me.  It was obvious he considered his work to be valuable and acted accordingly.  I stress again, there's no point in undertaking making prints unless you do so in a professional and earnest manner.
I have a challenge for you.  Work on an image you want to print.  From the start, make it larger than you usually would.  Reflect carefully about texture.  And perspective — squint at the image with your nose to the monitor, then stand across the room and see how it looks in complete darkness.  Take your time until you are satisfied with every detail.  You aren't making this image for a desktop background.  You aren't making this image to upload to a social networking site.  You're making this image for a physical space in your home.  When it's done, print it.  Print it — seriously.
Seriously — as in not at home on your PC's HP deskjet or whatever.  No, take it to a shop.  Print it at a larger size than your home printer can handle.  Choose paper carefully.  Use archival materials, if available.  Title, date, and sign your print using a graphite pencil.  In fact, make it an "artist's proof" (it is, after all, isn't it?).  Then, frame it — seriously.  At a minimum, buy a frame set that includes glass and a functional matte.  Better yet, have your print professionally framed.  Carefully choose the frame and style and color of matte.  Take your matted and framed print home.  Find a suitable space.  Hang it.  Let it be.
For at least a month or two.  And see what happens.  See if you don't develop a different relationship with your image — or come too see it in a new way.  Does it fill space in a manner unlike viewing it on your monitor?  Do the other surroundings in the room help determine its effect or shape its meaning?  Do guests or family members react to it?  Take my challenge and see if changing the way your work is presented changes the way it is perceived — by you and by others.
Making prints has certainly changed my own perceptions — both of my work and my process.  As I said earlier, I am only relating my own experience of making prints — but I hope you can tell it's been exciting and pleasurable.  I have many prints nestled in around my home, and I have also been fortunate to place some into shows, as well as to sell some.  But, again, I'm not claiming any high level of expertise.  So, if you'd like to know more about prints and printmaking, you might want to check out these knowledgeable folks:
Here's an interesting conversation from MOCA on "Printmaking: Traditions and New Trends" between Professors John Antoine Labadie and Ralph Lee Steeds of the faculty of the University of North Carolina at Pembroke.
Thinking of doing your own professional printing?  Also from MOCA, you might consider following the example of J.D. Jarvis and his account of printmaking in his three-part essay entitled "From the Box Up: Life with a New Printer."
About.com has articles defining Giclée prints, explaining how they are made, and advice on how to sell art prints.
Wikipedia on Giclée prints.  Authoritative as written by who knows who can be.
There are, of course, numerous books you can buy on this general subject — like Mastering Digital Printing by Harald Johnson and (for those with Phase Two leanings) Digital Art Studio: Techniques for Combining Inkjet Printing with Traditional Art Materials by Karin Schminke et. al.
~/~
And, yes, I know what some of you are thinking.  I can hear you clearly across the vastness of cyberspace.  Fractal art is a digital medium.  It's an art of light and code.  It is best presented and viewed digitally.  If it's not, so much is lost.  Colors dry up.  Depth is scuttled.  Distinctive elements, like lighting features, evaporate when placed outside a digital environment.  Moreover, there's no quarter given on this point of view.  Intrinsically, it's a disservice not to display and view fractal art in a digital milieu.
Well, I agree.  Digital art does become something else removed from digital space and reconstituted in physical space.  But, remember, I'm not advocating one presentational method is preferable to another.  I'm only pointing out that there are various avenues from which to present one's work.  Each has advantages and disadvantages.  Frankly, I think the future looks promising for digital purists.  That's probably because I had another eye-opening experience recently.  I took the master copy of one of my images, burned it to a DVD, and carted it over to a friend's house in order to view it on a high-def, 65 inch, flat screen TV.  And, yes, its pixels jumped and buzzed in a visceral way that no print I've ever made could match.
So, don't lose hope, digital true believers.  The days of Total Recall, wall-sized, high-definition, digital screens or "frames" are not science fiction.  I think museums and collectors will soon have to come to terms with the imperative of sometimes presenting digital/fractal art in digital space.  They'll feel compelled to invest in high-end screens and to meticulously set the ambiance for an optimal viewing experience.
I only have one caveat for digital experience enthusiasts.  Be consistently serious.  Treat each image of yours as an individual work — a work deserving its own screen/frame.  If you're thinking of just sticking a flash memory card into a digital frame and rotating through 1000 of your images with overly busy wipes and squiggle special effects, you've already cheapened yourself as an artist by settling for a screensaver on steroids.  Worse, by suggesting that your work is obviously disposable and replaceable — a Fractalbook mindset that implies today's mass-produced "masterpiece" is as awesome as yesterday's — you lost the war being fought to present your work as fine art.  In the end, after your many labors and tears, doesn't your vision deserve better than a hokey digital billboard?
~/~
Tags: fractal, fractal art, fractal blog, digital art, digital prints, giclee prints, on making prints, printmaking, monitor mode, wall mode, who are you to say my hokey digital billboard sucks, cruelanimal, orbit trap