We by silwenka
Happy Valentine's Day.  By the way, as fractal art, this piece, allegedly, sucks.
There's an oddly fascinating feature currently on display on deviantART called "People Who's [sic] Fractals SUCKED!"  I'll let the author, =Fiery-Fire, self-proclaimed "Fractal Gangsta'," explain the general idea:
In fractal 'world' we have a lot of names which are well known, established, the images from those 'masters' or 'wizards' leave us in awe and amazement. But did you ever wonder, how did they do, when they first opened their fractal program …whatever it was apo or ultra fractal.
So, there's the basic set-up.  Ms. Fire selects early and recent works by assorted DA fractalists she considers "masters" and posts samples for before/after comparisons.  What's supposed to be self-evident, I guess, is that the early renderings are unquestionably amateurish, while the more recent postings are irreproachably masterpieces.
Ms. Fire says she wrote the article to "promote a lot of laughter and amusement," and, indeed, it does, although perhaps not in the manner she intended.  The feature is worth examining because it serves as a vivid, concrete encapsulation for much of what Tim and I have been observing for years about the fractal art scene.
A helpful beginning might be to look at a few comparisons — even as we wonder if "suckiness" is in the eye of the beholder.
The sucky before:
Purplerain by =Jimpan1973
The masterpiece after: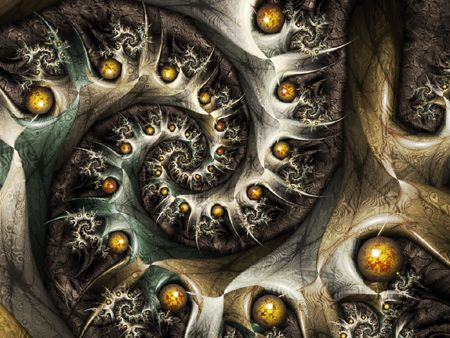 Monster Julia by =Jimpan1973
What's the main difference between the two images? Can't see it yet?  Try again:
The sucky before: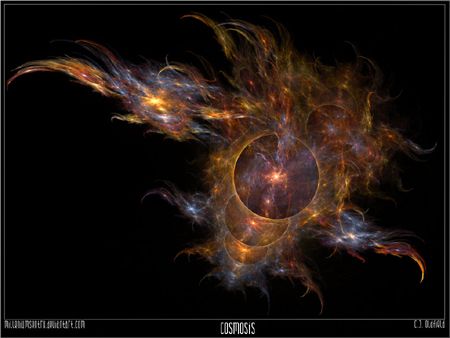 Cosmosis by *milleniumsentry
The masterpiece after: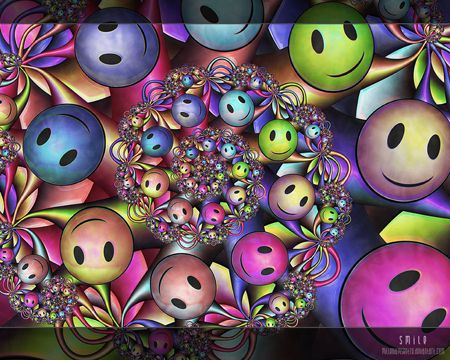 Smile by *milleniumsentry
Personally, I don't much care for most of the featured art work Ms. Fire has chosen.  Nevertheless, there does seem to be qualitative differences between the early fractals that supposedly suck and later fractals that supposedly rock.  In nearly every instance, the later "masterpieces" are more slick, more busy, and much more decorative.  In fact, nearly every available space within each later frame is filled (padded?) with eye-popping ornamentation.  The earlier images, by contrast, are rawer, make better use of absence, and sometimes seem better composed — probably just because they are not crammed to the threshold of overspill with visual information.  Consequently, although the later images are better crafted and surely more technically proficient, the earlier images seem to better utilize artistic principles and design elements.
In short, these "wizards" might be going backward.  One could argue that the more the "masters" master their software and polish their craft, the less successful they are in their attempts to be artists.
What happens when priorities are out of whack?  Like when emphasis is placed on "mastering one's tools," as Keith Mackay likes to say, rather than on producing fine art?   Isn't it evident?  As long as what can be done with software is prized over what fine art can be made, the trend shown above will continue.  Fractalbook, truth be told, institutionalizes such thinking with its "challenges" to adjust existing images and par file tweaking games popular on the Ultra Fractal Mailing List and elsewhere.  The priority is to see what the software can do — not what individuals can create as artists.  As long as this is the ruling aesthetic in our community, our "masters" may eventually conquer craft but will rarely produce fine art.
As long as one thinks of tools as toys, one's work will remain more childishly playful rather than masterfully artistic.  I suppose only in the realm of Fractalbook can some of these featured "artists," like LoonyL, rise from being a totally sucking noob to an accomplished grandmaster in just a little over two years.
~/~
Worse, the "art" being produced, especially in Fractalbook, nearly always must conform to an overriding, popular rubric of what constitutes fine fractal art in order to receive the longest choral threads of instantaneous praise.  Surfing through DA's fractal gallery is like taking a trip out to some suburban fractal ticky-tacky.  Look at the less-than-subtle similarities in some of Ms. Fire's chosen masterworks:
Overflow by JoelFaber
mind reading by *LoonyL
Starry Circuit by ~depaz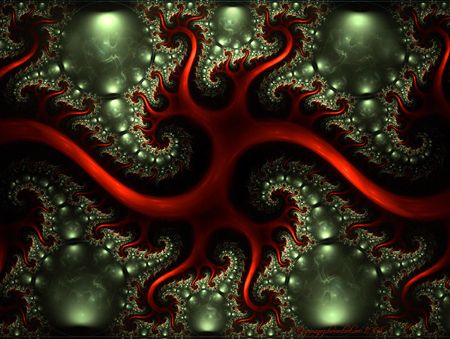 the red dragon by ~grinagog
Clearly, a certain look is necessary in order to be proclaimed a "master" in the DA fractal community.  The images above are so, forgive the pun, self-similar and spiral-grounded that I wondered if the Fractal Universe Calendar had been resuscitated.  It's no surprise that some people feel let down and experience cognitive dissonance when perusing Fractalbook.  This is what is considered the best we have to offer?  And the more it is held up to be so, the more the fractal assembly lines will crank out similar replications.  After all, who wants to run the risk of their praise-packed comment thread shrinking by living up to the site's name and actually "deviating" from the agreed-upon by-popular-demand template for fractal wizardry and excellence?
It's a hopeful sign, I suppose, that an occasional, lone voice questions the worth of Fractalbook's ruling hierarchy. Case in point?  This astute comment from *Aspartam:
I dont get the point at all…Some nice fractals in both categories "before" and "after". The one thing I see is a tendency to be less mainstream ( less overdone, with more use of space and not so many spirals) in the before category. Is it a way to point out a growing conformity in fractal making?
It certainly looks like a cancerous conformity to me, but Ms. Fire disagrees:
[S]ome of the first fractals are unique …I wouldn't call them masterpieces not due to shape, but a basic lack of skill of the owner at the time of creation, and yes making the fractals more proper….isn't main stream, it really requires full understanding of what each variation is doing.
There's a manifesto to rally around:  Make your art more proper! Exploration has no place in creative acts.  Stifle such impropriety.  And don't feel bad about grazing with the herd.  You aren't going mainstream.  You're just honing your craft and overcoming a "basic lack of skill."  That way, you'll avoid the stink of serendipity and never have any cumbersome accidents while making algorithmic art — which, as we all know, is grounded in absolutes and demands precise programming and complete technical comprehension.
Picasso.  Matisse.  Gauguin.  Miro.  Basquiat.  Serrano.  Ofili.  How much more famous would they all have been — if only — they'd made their art — more — proper?
As long as our community embraces prevailing mindsets like
–only programs like UF and Apo can help one become a "master"
–only decorative, spirally, layer-laden eyecandy — like that found in BMFAC exhibitions, the defunct FUC, and this DA collection of "masterpieces" — is "proper" enough to count as legitimate, worthwhile fractal art
–mastering the capabilities of fractal software is equivalent to creative acts of self-expression
–placing work in insular and isolated Fractalbook hidey-holes where social expectations define success based on behavior patterns of false flattery and mass conformity to limited artistic models is comparable to a stratagem of placing work in fairs, galleries, museums, and non-community web sites to be openly seen and widely reviewed
then the general fine arts world will continue to see fractal art and artists as, at best, non-professional — and, at worst, as completely mediocre.
~/~
Perhaps the last word on this whole fractal sucking matter can be found in the signature line from this comment from Jimpan1973:
Awsome news article!

—
Real friends are those you can fart with!
Yes, if nothing else, there seems to be plenty of that going on here.
~/~
Note: Edited to correct a misspelling and to add missing italics.
Tags: fractal, fractals, fractal art, fractal blog, fractals that suck, fiery-fire, jimpan1973, milleniumsentry, joelfaber, loonyl, depaz, grinagog, aspartam, make your art more proper, cruelanimal, orbit trap