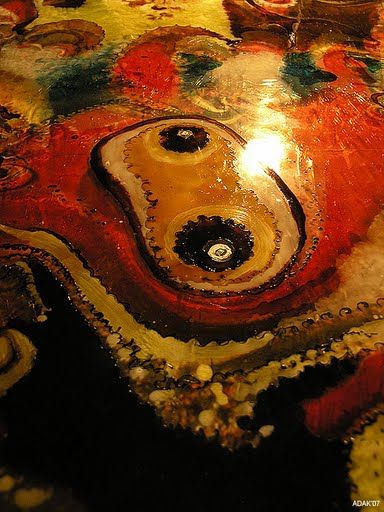 Art and photograph by adak'76
Repeat viewings of the 2009 Benoit Mandelbrot Fractal Art Contest winners consistently leave a bitter aftertaste.
I'm convinced, especially after reading Tim's latest OT series on the distinctions between art and craft, that very little of what BMFAC will exhibit next year merits being called art.  The winning works are, at best, well-crafted craft — decorative, ornamental, and technically accomplished eyecandy.  With perhaps one or two exceptions, none of winning images fulfills any non-motivated function of art — like mysterious experience, imaginative expression, universal communication, or symbolic function.  The winning images also come up short in meeting motivated functions like social inquiry (as Guido Cavalcante's recently discussed image does), psychological purposes, contemplating thought, elucidating concepts, or provoking ideas.  I'd even settle for lesser pursuits like demonstrating open propaganda.  No, for the most part, only one criteria apparently is necessary to be a BMFAC winner: beauty.  The winning images are, without fail, pretty pictures.
One recent commenter, Esin Turkakin, responding to Tim's last post, seemed to confuse craft with medium — as if the two things were one and the same. She went on to say:
If you only judge images by their artistic value as you seem to do, medium becomes completely irrelevant – we can't talk about "fractal art". It's merely defined by its message and expression, independent of the medium used.
This is nonsense.  Would you make the same claim about sculpture, ceramics, or photography?  If we judge photographs by their artistic value, can we no longer talk about photographic art?  Absolutely not. Actually, what we should no longer assume is that fractal images that are merely well crafted automatically rise to the level of art.  This is the modus operandi of BMFAC, the late Fractal Universe Calendar contest, every Fractalbook high schoolish it's-another-masterpiece mutual admiration society comment thread, and (sometimes it seems like) the whole fractal "art" community.
But if you're going to use the term fractal art, then I sincerely hope you're judging such work by its artistic value.  Maybe if BMFAC was a little more "independent of the medium used," we wouldn't have nearly every winner using the very same "mediums" (UF and Apo) — that is, fractal generators coincidentally designed by two of the contest's judges.
Art should always be the primary concern for critical judgment.  Otherwise, let's start talking about fractal craft instead and just spend our time swooning over studying the intricacies of par files — which, by the way, is the preferred entertainment of the UF Mailing List.  Art remains art across mediums — whether the format be painting, sculpture, music, poetry, fibers, film, criticism, or computer-generated work.  Art certainly can be well-crafted — but just as emphatically does not have to be.  Is Duchamp's urinal "well-crafted"?  The question is irrelevant, even absurd.  What matters is expression.
And that's the limitation of craft.  It doesn't express anything.  It just lies there and looks good.
~/~
Another commenter, Nada Kringels, makes the following observation as to whether Tim's contention in his last post that an image by Guido Cavalcante rises to the level of art:
I do respect Guido's passion and engagement, but hadn't I been told what the image was all about I wouldn't have seen it by itself. I had to read the whole horror to interpret something as garbage which I had seen as an unhappy color combination before. An instrument has to be practised, studied and played a lot before, MAYBE, it has this direct magic.
Using Kringels' logic, here is an extrapolation of what she'd probably say about Picasso:
While I admire Pablo's "passion and engagement," looking at "Guernica" I saw just a bunch of "unhappy color combinations," and I "had to read the whole horror" to interpret it as something like firebombing.  If only Pablo had taken Janet Parke's VAA course, then he could have "practiced his instrument," meaning Ultra Fractal naturally, and better honed his craft to produce more "direct magic."
Did I mention that both Turkakin and Kringels are recent 2009 BMFAC winners?  Check the links on their names above and you can determine whether their soon-to-be-exhibited entries are well crafted.  But do either rise to the "direct magic" of being art?  If not, then can they be said to live up to BMFAC's billing of presenting "the most important fractal artists in the world"?    And maybe because OT asks such questions is why both Turkakin and Kringels keep showing up here to argue that, at least when it comes to fractal art, distinctions between art and craft are arbitrary and/or meaningless.
~/~
The question of artistic mediums raises another problem I have with BMFAC.  It is far too limited in its vision of what fractal art is and can be.  To me, fractal art is precisely what it says: art with fractals.  BMFAC believes fractal art is art (well, craft actually, but let's not get caught in a recursive loop) with programs — and, really, after examining what won, pretty much only Ultra Fractal and Apophysis — whose authors, if you don't mind my pointing out the same feedback cringle once again, conveniently served as BMFAC judges during the last go around (talk about getting caught in a recursive loop).
Previously on OT, Tim outlined the necessity for fractal art to iterate into Phase Two, and I gave examples of what a Phase Two exhibition of fractal art might look like.  So let's talk mediums today, or, more specifically, avenues for expressing fractal art that are not heavily dependent on software.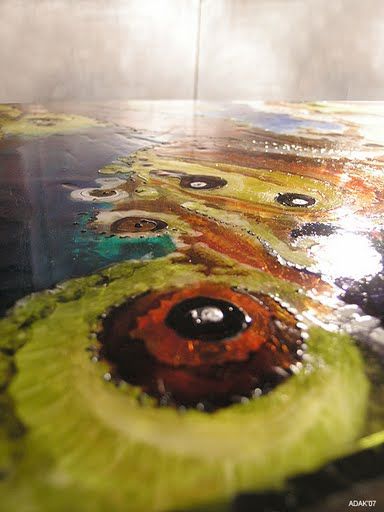 Photograph and art by adak'76
When I first saw the image above, I thought it was a digital/fractal image that had been post-processed with Photoshop filters like Flaming Pear's Lacquer.  But this is a photograph, and a horizon can clearly be seen near the top of the picture.  Whatever this is, it's big.
Exploring adak'76's other galleries on Picasa provides some clues.  This shot, in particular, suggests the artist is proficient in metalworking and constructs his artistic installations on a grand scale.  The reflections of light on the photographs of fractal forms above suggest these pieces could be the size of a small bedroom floor and are likely highly varnished.
This fractal artist seems like a perfect fit for BMFAC.  After all, his installations far exceed even BMFAC's massive file restrictions.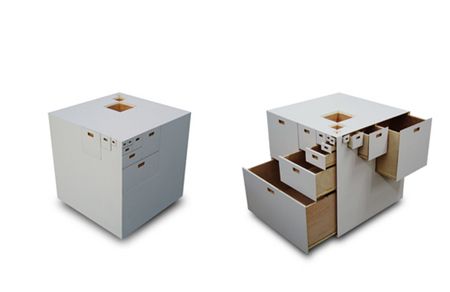 Fractal 23 by Takeshi Miakaya Design
I saw this on BoingBoing.  It's a fascinating example of 3-D recursiveness, although the task of having to dust "infinite" drawers seems a bit daunting.  There are twenty-three functional drawers on this chest, and you can own this piece for a mere $19,000.  One commenter noted that Miakaya built two of these — one for himself and one to sell — but then quit and observed that such fractal furniture was "a pain in the ass" to make.  I suppose such sentiment qualifies as suffering for your art.  Unfortunately, I could find no working web site for Miakaya.
A fractal carving by Terry W. Gintz
Terry W. Gintz is a true Renaissance Man.  He's a programmer, artist, poet, photographer, and sculptor — and even a superb cook.  He's recently updated his fractal carvings gallery — small sculptures based on 3-D fractals created with QuaSZ and other Mystic Fractal programs of his own design.  Gintz notes that "like fractals, every rock tells a story."  In truth, Gintz has many fascinating galleries of his lapidary art.  I especially like his Flintstones Minatures gallery.
Gloria Caeli, a balloon by Jonathan Wolfe and Friends.
Sky Dyes, a project headed by Jonathan Wolfe and his friends, designs "flying fractal art balloons."  Talk about an impressive palette.  In this case, it's the sky itself, surrounded by (fractal) clouds.  Wolfe notes that:
The fractal balloons will contain roughly 100 billion pixels, about  the same number of stars as are in our galaxy and as many neurons as are in our brain…
Well, that should be big enough to (barely) meet BMFAC's gigantic size limitations.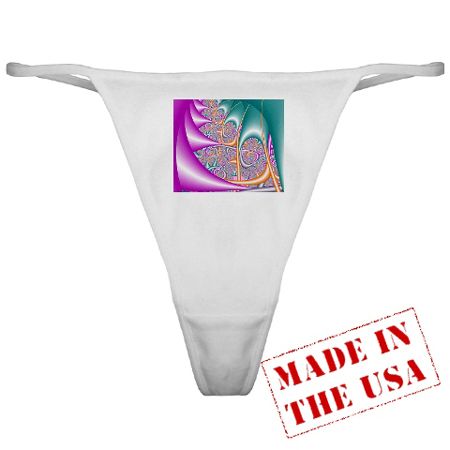 A fractal thong courtesy of Fractal Generation Galleria
Software is so passé.  Thongs are the new new wave in cutting edge fractal art.  Nothing proclaims your seriousness as a fractal artist more than slapping your work over the genital areas of complete strangers.  You never have to worry about penis envy when someone's family jewels are draped with your self-similar infinity.  Perhaps BMFAC could make fractal thongs a separate category in the 2011 competition. Then, finally, one could honestly claim those massive entry sizes do matter.  Moreover, such skimpy, fractally-enhanced undergarments might be just the ticket for presenting "our art form to a world that largely does not know it."  Why maybe the BMFAC selection panel members (no pun intended) could even model the contest finalists — strutting the pageant ramp in a live YouTube fractalpalooza.
I'd buy that for a dollar.
~/~
UPDATE:
On September 25, 20o9, on the Ultra Fractal Mailing List, Damien M. Jones made the following remark concerning my OT post about a mysterious "winners page" where BMFAC director Jones appeared to be sorting contest entries into winning and losing categories before the BMFAC judging panel had ever convened:
The interpretation of what [Terry] saw was all his; he elected to spin it in a way that favors his cause. It's demagoguery [emphasis mine].
On December 6th, as a comment to this post, Esin Turkakin, one of BMFAC 2009's winners, made the following remark:
What I find sad is why you're actively trying to avoid a civil discussion and immediately resort to demagoguery [emphasis mine] .
Does it sound to you like someone has marching orders to repeat established talking points?
Isn't it interesting how quickly you can become a "demagogue" as soon as some people disagree with what you've said? They'll earnestly accuse you of incivility — as they flat out call you names.
~/~
Tags: fractal, fractals, fractal art, fractal blog, art criticism, more phase two thinking about fractal art, benoit mandelbrot fractal art contest, esin turkakin, nada kringels, adak'76, takeshi miakaya, terry w gintz, jonathan wolfe fractal balloons, fractal thong, the perils of deep zooming private parts, cruelanimal, orbit trap