I don't dislike everything.  The OT faithful probably know from past posts that I often see fractal art works I find interesting.
When Tim and I were first forming Orbit Trap and discussing its possibilities, one idea we knocked around was to post an occasional fractal art photoblog — that is, allow the blog to function as a kind of virtual gallery by offering images without comment.  Any reaction to the art works would come from OT's readers in the form of comments.  Today seems as good a day as any to start.
So, here are a few pieces that have have caught my eye lately.  Some are Phase One works, and others are Phase Two.
Disclaimer: I might have a bigger-tent sense of what fractal art constitutes than you do.
Like or dislike, and, if so moved, feel free to say so: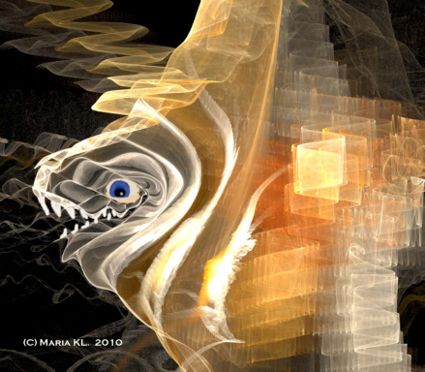 Deep Sea Monster by Maria K. Lemming.  Seen on her web site.
Tvivla by Robert Töreki.  Seen on the Ultrafractal site.
Toy Fracture by Bermarte.  Seen on Fractal Forums.
Digging You Up Again by 2BORNO2B.  Seen on deviantART.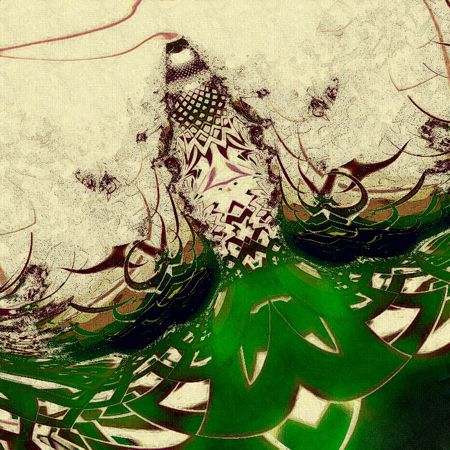 Cries from the Wetlands by Gaiadriel.  Seen on Renderosity.
The Water Tree by Hector Garrido.  Seen on Armonia Fractal.
Iguana Eyes by Michael Kern.  Seen on Fractal Enightenment.
Fractal Recursive Spiral Pottery Pattern by Quasimondo.  Seen on Flickr.
Julia Bead Tapestry.  Seen on In Bits Mosaics.
Vent #3 by Thomas Briggs.  Seen on his web site.

~/~
Tags: fractal, fractals, fractal art, fractal blog, digital art, computer art, maria k lemming, robert toreki, bermarte, 2BORNO2B, gaiadriel, hector garrido, michael kern, quasimondo, thomas briggs, photoblog 1, cruelanimal, orbit trap