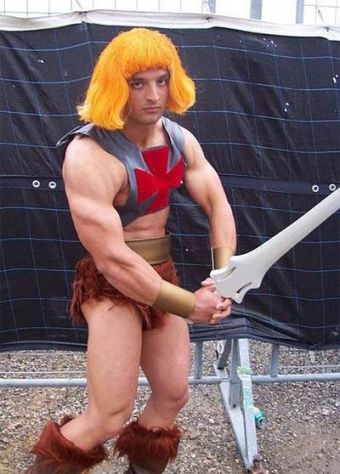 Cornelia Yoder: "I was pretty flabbergasted, but did as they asked."
It still isn't safe to wander into your favorite mall gift shop or bookstore. After seemingly undergoing a well deserved decapitation, the staple of fractal schlock, the Fractal Universe Calendar (aka FUC), has recently grown several new Hydra heads.
We've often been critical of Fractalbook's foibles on OT, but one thing these cozy, socializing conclaves do well is encouraging one to trumpet his or her own horn. For a topical case in point, here is Cornelia Yoder yesterday on the Ultra Fractal Mailing List:
Today in the mail I received my artist's copies of the 2011 Fractal Universe Calendar, published by Avalanche Publishing (now owned by Perfect Timing, Inc). It's supposed to be available in stores soon.

All of the images in the calendar are mine this year. I was approached by Perfect Timing a year ago to submit a set of images for them to choose from, for a "single artist" Fractal Universe Calendar for 2011. I was pretty flabbergasted, but did as they asked.

Then a couple months ago, they asked me to do it again for 2012. I suggested they go back to soliciting images from the entire fractal art community and offered to be the editor since Panny no longer wanted to do it, but they refused that idea. Apparently they had had too much trouble with so many contracts, images not on time, images not in the right format, etc. So I guess I'll also be doing the 2012 calendar.

I believe that Panny had gathered images for a different calendar to be published by a different company made up of some of the Avalanche people who did not go to Perfect Timing. I'm not sure the status of that, nor what it will be called, but if it lasts, it may be a route for others to have calendar opportunities. At least I hope so.
I'm guessing I'm not the only one who is "flabbergasted" over this elevation of Yoder to the status of a fractal grandmaster — over becoming the Chosen One kicked upstairs to replace FUC's previous parade of mainstream fractal stars — especially considering that Yoder sometimes enjoys putting out material like this:
"Woof. An overnight stay in a veterinarian's cage sure beat being trapped perpetually in this bathetic fractal universe."
Puppy01 by Cornelia Yoder. More here for those pre-dosed with reflux medication.
It seems, though, that multiple fractal calendars are sprouting through sidewalk cracks like pesticide-resistant weeds, and that Panny Brawley, a former FUC editor, takes issue with Yoder's accusations that Avalanche Publishing "had too much trouble" with past calendar artists getting their act together handling contracts, missing deadlines, and failing to comprehend proper file formats. Brawley says:
And here is the link to the Calendar I edited for 2011 for Orange Circle Studio — Called the Infinite Creations Calendar, published by Orange Circle Studio.

The head of Avalanche (who moved to Orange Circle) approached me with the offer to put together a fractal calendar for them, and the link below shows more of the content than that of Orange Circle. As long as I edited the Fractal Universe Calendar, I have no memory of any image not making it in on time, or in the right format.

You can zoom into each of the 2011 images here:
http://www.amazon.com/Infinite-Creations-Fractal-World-Calendar/dp/1608970531
Whatever other problems the original FUC had, like running a competition that heavily favored past and present editors, the selection process seemed to run fairly smoothly, so I suspect Yoder is merely parroting the company line and hoping readers are naive enough not to do their homework. I think there are far more direct reasons why Avalanche (and now Perfect Timing) nixed the idea of "soliciting images from the entire fractal art community" — like this and this and this and this and this and this.
It seems doubtful that Yoder will actually get to use the Fractal Universe moniker for her solo project because it appears Avalanche has sold the franchise — or, at any rate, turned a blind eye to its appropriation, as evidenced by this "Fractal Universe Calendar" printed by Moseley Road Publishers.
But let's be honest and stop pretending here. None of these fractal calendars matter from an artistic perspective. There's a reason why the artists' names do not appear on promotions for either the Orange Circle or Moseley calendars. These ventures are strictly about racking up sales — not disseminating art. The aesthetic that drives these calendars is one of extreme ornamentation and more closely aligned to digital flower arrangement than to artistic production. Just rearrange the spirals and ribbons and feathers into variations of the same gaudy bouquet, then repeat the template endlessly. Anyone who's in the market for this gooey eyecandy need go no further than to their corner florist to pick up what purports to be world class work. What all of these publishers should really do is just give away blank calendars and let buyers make their own fractal art. That way, purchasers will have better odds of receiving a top-notch product.