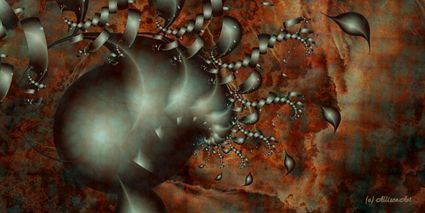 Send Out the Probes by Linda Allison
No one to date has had a more profound effect on fractal art style than Linda Allison. Her fractals became the template de rigor for the Fractal Universe Calendar (FUC) — the long-running staple of fractal art mass marketing. Her work made with early iterations of Ultra Fractal established a touchstone in the public mind for what a fractal was supposed to be — swirly and decorative ornamentation filled with light. Subsequently, the production of fractal art took on guild qualities, as Tim laid out earlier in a series of posts on Orbit Trap, and imitators swelled Fractalbook to churn out self-similar kudzu while social networking.
I've been hard on the FUC and its rigid notions of fractal imagery, so some readers might think I am being snarky here. I am not. To have had such a profound effect on any artistic discipline is a considerable achievement.
Not that Allison necessarily ripped her style from whole cloth. More likely, it was indirectly appropriated. Early on, Ultra Fractal built its commercial software to take advantage of Fractint's open source graciousness. By annexing Fractint formulae, Allison was able to build on established pattern recognition and use the additional graphic firepower of UF to launch her own vogue.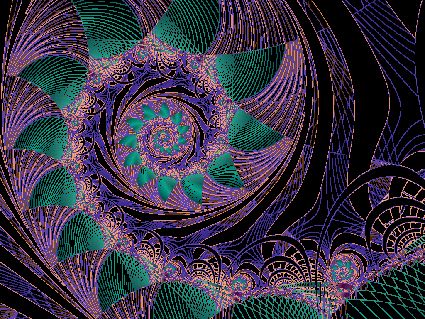 Sp035 by O
The image above by prodigious Fractint artist O shows the foundation for what would become the early-UF Allison-influenced style. The spiral image is crisp and clear; its composition unfolds in dark tones with hard, defined lines. Although O's gender is unknown (to me, anyway), and stereotypes aside, a differentiation between masculine and feminine styles might be in order here. From A Little Design:
Typically in design the stereotype for "masculine" follows with angularity, straight lines, phallic forms, squares, roughness, etc. And for the "feminine" the standard is: curvy, rounded, smooth, organic, soft, floral, flourishes, motherly, nurturing… etc. But one doesn't have to look far in our modern world to find nurturing men, who care for their children and aggressive women who climb mountains.
Allison took Fractint forms and ran them through her own UF filter — more curves, more saturation, more light. Softer, natural shapes replaced harder-edged geometric forms and angles.
Morning Magic by Linda Allison
Her images are elegant flourishes of light — highly decorative. At their best, they transcend a beauty-is-all aesthetics and reach to be about something — to express ideas or suggest connections to the natural world.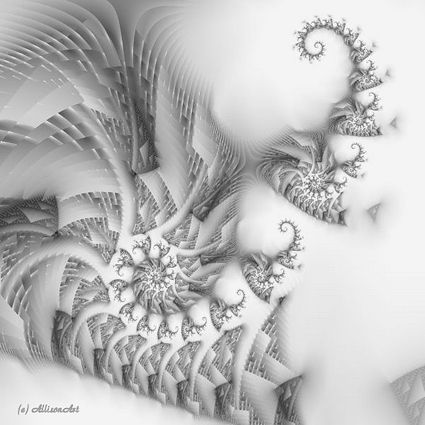 The Avalanche by Linda Allison
Over time, Allison's style, coupled with the popularity of UF, became the dictionary photograph for the word fractal. Before long, the compliment engines of Fractalbook were mass-producing such images on a scale dwarfing greeting cards. This "UF Look" became the status quo — became the gateway style to "success" in the Fractal Universe Calendar and settled into the prevailing (but not exclusive) aesthetic of the Benoit Mandelbrot Fractal Art Contest (BMFAC).
Ironically, such imagery somehow enjoyed a kind of anointed status as being more purely fractal — even though such works were significantly processed within UF and eventually became precursors for the masked and layered pictorials generated by artists using more recent versions of the software.
Garden Clippers by Linda Allison
But any artistic movement — especially one awash in decoration — once safely boxed into the foundation of the status quo will be stifling to some — some who envision a new wave. In short, Allison's style gave the fractal underground something to rebel against, to "kick against the pricks" in the medieval sense. More than a few fractal artists actively worked against the grain of the prevailing aesthetic for years, and, more recently, Guido Cavalcante sounded a clarion call on Orbit Trap:
I believe that algorithmic art must now engage in activities that have been "not appropriate" for the medium until now, during those times when it was still trying to find its own aesthetic. But now algorithmic art is finally ready to serve "non-artistic" purposes. It's not a problem, of course, if some prefer to continue on creating purely aesthetic and visually intriguing objects. There is nothing wrong in doing that, although doing so does not constitute the same "heroic" accomplishment that it once did when algorithmic artists were struggling to break away, and give birth to a new medium. That was the challenge of the last 20 years. But now those early steps belong to history.
For those of us who prefer our fractal art with more cultural-social-political bite, it's tempting to think the cosmetics of the fractal craft guild are historical memories buried neck-deep in nostalgia. But old habits hang on and on. Just two weeks ago, look who made the cut on Renderosity's Fractal Windows Weekly: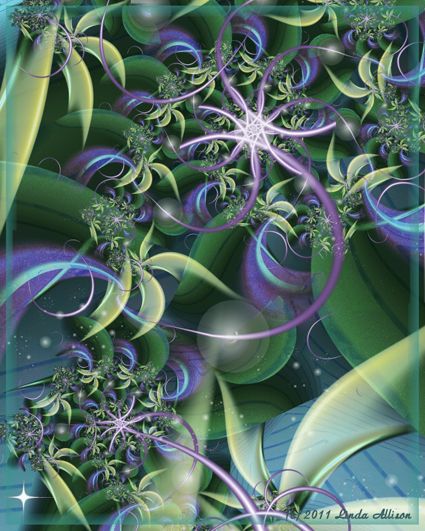 Banana…Bush??? by Linda Allison
Don't topple those weathered statues yet. The status quo is indeed the revolution that's not only televised but still mass produced online in Fractabook. Over on deviantART, a Fractalbook realm pigged out with imitators, open the fractal splash page at any given moment, and you'll find an assortment of today's daily deviation of Allison wannabes. And are you one who thinks the next wave of 3D fractal renders will wipe away the old, stale aesthetics? Not if practitioners using programs like Mandelbulb3D continue to simulate the Allison style and believe ornamentation best fulfills fractal art expression: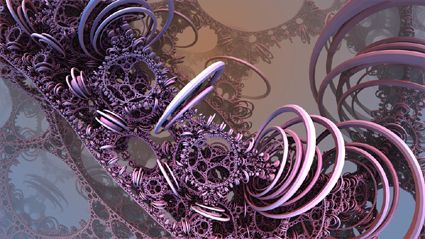 Getting Loopy by Dsynegrafix
I guess the status quo style can still eat its young — even some of those armed with new tools. The lengthy threads of gushing Fractalbook virtual hugs and kisses under the last two images above show how much the Allison style aims to (still) please. I guess an open slot (or grave?) remains in calendars and contests for 3D fractal renders that are properly tweaked with acceptable embellishment. I guess, too, the first clue of establishment leanings was when, completely without irony, Dsynegrafix thanked an artist for use of his parameters. That artist calls himself McImages.
~/~
Next in the series: A look at Jock Cooper's "Mechanicals." One sentence revised for clarity.