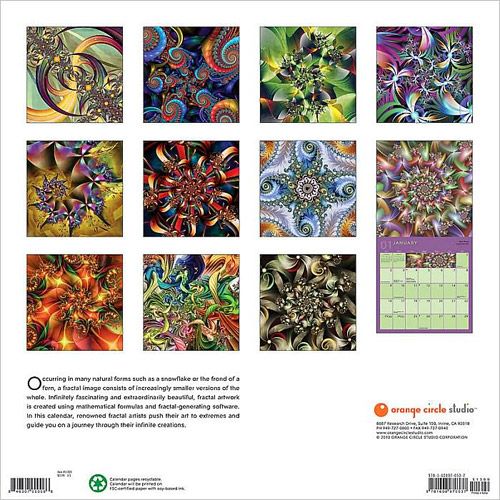 Did you miss me?
Shot of the 2011 Infinite Creations calendar.
[Image seen on BarnesandNoble.com.]
Just when you thought it was once again safe to enter your local chain bookstore…
The Fractal Universe Calendar (FUC) gets a name change and a new coat of renders.  But kick those familiar, sappy, spiral tires — and it's easy to see what's under this tired trope of a hood.
Notice of the FUC reboot was seen (unsurprisingly) on Keith Mackay's blog.  "Daniel," whose linked name goes to Orange Circle Studio, a commercial calendar site, leaves the following message
Orange Circle Studio now owns the rights to the Fractals 2011 wall calendar.
and provides a link that notes that in this NEW IMPROVED calendar
renowned fractal artists push their art to extremes and guide you on a journey through their infinite creations.
so I guess the inevitable questions will have to again be asked before this impostor starts hanging around strip malls in the fall:
–Who are these "renowned fractal artists"?
–How are they selected to be a part of this project?
–How are they compensated for having their art included?
–What is meant by "owns the rights"?  Has OCS purchased rights to re-use similar or even previous FUC images?
–Will you please explain in some detail how you ascertained that the images above have been "pushed to extremes"?
–The fuzzy wuzzy FUC "aesthetic" wasn't hard to clone, wuzzit?
And the most critical question:
–Aren't OT readers gladdened to know that the images above will be mass-marketed with the suggestion that this is the "most renowned" artistic expression our discipline is capable of producing?
You know, it's starting to feel like Old Home Week around the blog lately…
~/~
I'd be remiss if I'd didn't make time to acknowledge OT admirer and troll-in-waiting Chris Oldfield (milleniumsentry on deviantART) for blowing us virtual kisses.  Since I know he wants to reach a larger audience, and understand how much he enjoys having his work shared with others, here is a blown artwork posted with a dedication that reads: "A little something for the Orbit Trap bloggers…"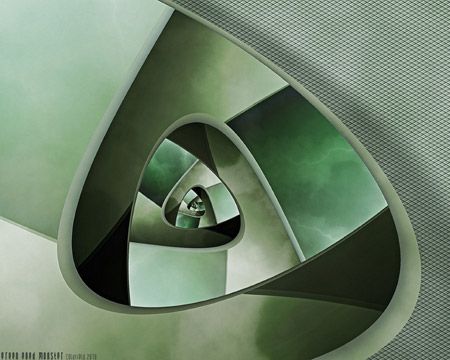 Green-Eyed Envy by milleniumsentry
Really.  He shouldn't have…
Oldfield, singled out as one of the official DA "masters," did not specifically tag this particular post as wanting constructive criticism — so I wouldn't want to spoil the uniform tone of effusive, Fractalbook gushiness found in the comment thread located directly under the image.  If you haven't yet had your daily recommended allotment of saccharine, you should drop by and drink deeply.
~/~
UPDATE: More mystery.  What could this be?
Tags: fractal, fractals, fractal art, fractal blog, fractal calendar, fuc 2 the sequel, fractal universe calendar, infinite creations calendar, orange circle studio, keith mackay, chris oldfield, milleniumsentry, meet the new schlock same as the old schlock, cruelanimal, orbit trap