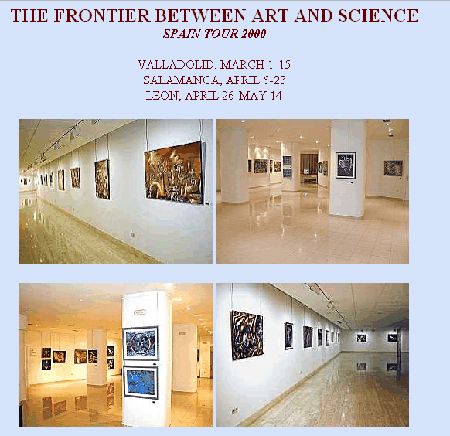 It wasn't the sleep of reason that gave birth to a monster.
Some of Orbit Trap's critics have taken issue with our claim that the Benoit Mandelbrot Fractal Art Contest (BMFAC) is nothing more than a publicity stunt to feather the nests of its organizers and judges. These critics argue the competition is being unfairly maligned and is altruistic at its core. It's not about self-promotion, claim our detractors. Rather, the contest's organizers have selflessly volunteered their time and energy for the betterment of our discipline.
If you're still sitting on the fence about this issue, or you believe our BMFAC critiques have been unfairly exaggerated, please consider the following.
The partial screencap above is taken from a page describing a fractal art exhibition that made some rounds in 2000. It was called "The Frontier Between Science and Art." Nearly one-half of the participants later went on to serve as BMFAC judges. Like BMFAC, the exhibition had a heavy touring rotation in Spain. Like BMFAC, it was produced by the same two co-directors.
In other words, this non-juried, by invitation only, vanity project eventually evolved into BMFAC.
Why? Because, like self-publishing, self-produced art exhibitions of yourself and your friends tend to be less respected and even frowned upon in most professional circles. After all, it's not an objective peer review guiding the content of the exhibition; it's subjective self-financing. You pay and you pick — and thus you can become both artist and curator simultaneously.
What suffers in such arrangements, though, is that artistic standards become irrelevant. Who among us really believes that the best artists are inherently those who are the most willing to pay to promote themselves?
But there was one way to bring instant respectability to this pay-for-view venture. Concoct a scheme to turn it into an "international fractal art contest." Set up yourself and your friends as the panel of judges. Rig the submission requirements to favor a particular scalable fractal software program favorable to your work and that of your friends. And, best of all, include the work of "panel members" (that's you and yours, of course) in the "contest" exhibition in a manner that makes your self-selected, unjuried work indistinguishable from the work of the competition's winners.
Presto. Suddenly your vanity project has instant professional integrity.
Except, of course, that it does not. The cheap theatrics should fool no one. It did not fool us. We called out BMFAC for what it was. A craven, self-evident, publicity stunt.
Recently, we've written several posts trying to figure out why there was virtually no publicity for BMFAC's showcase exhibition in India last summer. Earlier BMFAC exhibitions featured press reports and photo layouts. I remember one picture in particular featuring a co-director and his grandfathered-in panel-selected art situated in a smiling photo with the late Benoit Mandelbrot. So, what was different this last go around?
I can only think of one thing. The directors and their judges elected not to include their own work in the last exhibition.
Do you see the connection to the lack of publicity now? As long as the exhibition furthered their own reputations and pushed their own careers, open the curtain and turn on the lights. But once the self-promoters exit the stage, close the curtain and fade to black.
And, so, only the BMFAC contest winners (supposedly) received PR packets about the India exhibition. I hope the competition's winners, both past and present, feel the prestige of being recognized by BMFAC offsets that lingering, nagging back pain…
…the back pain from being forced to give the contest's organizers and judges all those piggyback rides.
~/~
Speaking of the BMFAC India exhibition, I'll remind our readers once again that the whole enterprise still falls under the definition of an alleged art show. To date, nothing concrete has surfaced on the Internet to demonstrate the show actually occurred.
Yes, several winners came forth and chided us for being so absurd to insist on what Othello once called "the ocular proof." One winner even admitted having photographs that he'd be willing to share — assuming we signed some kind of pre-nuptial agreement or something. Of course, he could have just as easily posted them to any one of his multiple web sites — but, to date, has not done so.
Why one would almost think revealing the photos would lead to some kind of shocking revelation. It's safer, then, to dole them out in hush-hush tones to the winners only and blame the whole PR vacuum on a "press blackout" by Indian authorities.
What new wrinkle can't be revealed to the rest of us? There were plenty of photos from the ICM conference. And those fractal prints were BIG, remember. They had to be printed huge to reveal plenty of "fractal detail." Yet, each print remains hidden from cyberspace. The show turns up nowhere on any search of the ICM site. It wasn't in the main exhibition hall. Was it tucked away somewhere in a dark back hallway? Was space at a premium, so the whole exhibition had to be reprinted at a much smaller size? That would lend truth to the claim that the size restrictions were indeed designed solely for the expressed purpose of promoting Ultra Fractal…as if having the software's author as a judge wasn't enough of an unfair advantage already.
I guess we'll never know the answers to these and other questions until one of the inner circle of winners decides to make photos of the exhibition public. After all, apparently, the winners are the only people on earth who've been given such materials.
I suppose the contest director and maybe a few judges have some photos, too. But I don't think we can count on them for any shared publicity — especially now that there's nothing in such a gesture for them. As far as they're concerned, the show closed the moment the whole production stopped centering on their stealing every scene.