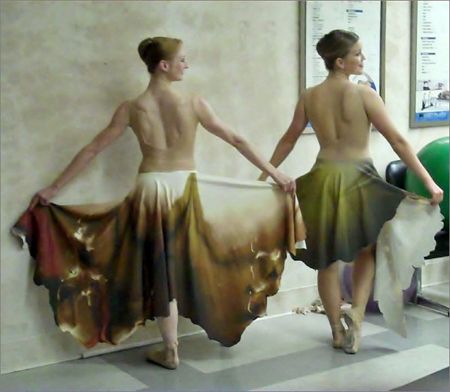 Dance first.  Think later. It's the natural order.
—Samuel Beckett
[Photograph seen on Janet Parke's Sketchblog.]
In a post to the Ultra Fractal Mailing List, Janet Parke describes a recent project mashing fractal art with ballet.  She links to an entry in her Sketchblog where she outlines the genesis of the mixed-media performance as follows:
I had the idea to merge the two artistic passions of my life into one project — a ballet about the iterations and relationships of my life, costumed with my fractal art printed on fabric.
The Sketchblog post traces the creative ideology behind the undertaking and includes the fractal image used as a model, design sketches, and photographs of the costumes.  A link to a video excerpt of the performance, entitled through you so i, is also included.
Parke asked the UF List for comments.  And, unsurprisingly, she got plenty.  Here's a sampling:
Your ballet is GORGEOUS AND INSPIRING!!
–Blythe Hoyle

Amazing! Beautiful! Brilliant!!! What a perfect blend of arts.
–Mad

Absolutely brilliant, Janet, and an inevitable fusion of your two talents. Gorgeous!
–Pam Blackstone

This looks Ultra(Fractal) Cool! Great idea, and beautiful show!
–Eveline Berkman

Amazing. The costumes look so gorgeous. Wouldn't you ladies all love to have one of those dresses? I know I  would…
–Yvonne Mous

Thank you so much for sharing Janet. I love the costumes and the way you were able to transform your two passions into something new and special. Great!
–Thea Verkerk

wow !!
Do I recognize the art you showed in 2007 in San Sebastian (Spain) from the BMandelbrot-contest??
–Juliette Gribnau
And so on.  You get the idea.
~/~
Since comments were asked for, I have a few of my own.
First, about the responses.  Who's surprised?  This is a case of maximum preaching to the choir.  The UF List, whatever its pretensions as an art-sharing resource, proves again to be just another Fractalbook social networking site dedicated to mutual ego-stroking and sycophantic flattery.  Frankly, I see little difference in form and tone between the responses above and those I discussed from the deviantART fractal-sucking "masters" from a few months back.  Even if the replies are sincere, they still reek of cloying mawkishness and illustrate the rote kudos assembly line that so commonly infects Fractalbook.  What a solipsistic, self-contained environment.  It's no compliment to point out that they are indeed their own audience.
And why are so many of the UF Listers gushing over Parke's decision to print fractals on fabric — as if this is some kind of novel approach?  I have digital artist friends who've embraced the fiber arts for years.  Besides, how many of these fawning jokers have their own CafePress or similar sites where they routinely hawk their fractal wares on t-shirts, tote bags, ball caps, and even thongs?
As for the ballet itself, you'd think I'd be inclined to like it.  After all, I've advocated in previous OT posts that fractal art should evolve into more Phase Two variations — that is, should move beyond software-bound expressions and more openly embrace facets of the fine arts.  But, in such cases, I generally assume that fractal mixed media has coherent and legitimate associations.  Other than slapping fractals on tutus, what exactly are the interdisciplinary connections here?  Parke seems a bit uncertain herself, and, in a response on the UF List to Ed, who "wondered why there were no ties with fractal motivs [sic]," says:
Perhaps you meant you didn't see a direct connection between the choreography and the art that was used on the costumes. I didn't really try to make a connection there. I just knew that the art had the palette I was looking for and the soft gradation of color and minimal fractal structure that would be effective on fabric for this type dress.
In fact, the only connector between the art and the dance specifically mentioned by Parke on her blog is the music that was used in the performance.  She notes that
The soft, painterly, oogey quality of the fractal's coloring seemed a natural fit for the music I had chosen and the style of contemporary movement I would be using.
but, ironically, the performance video is scored with different music because of "performance rights agreements."  Can we then assume the replacement music is also a "natural fit"?  If so, then can any of us just substitute any score of our choosing?  Since the costumes reminded me of tie-dye, I played the video with the sound off and put the Grateful Dead's "Dark Star" on my stereo.  The result?  A theatrical representation closer to "Stoned Lake" than "Swan Lake."
You know, I'd also like to jump on this bandwagon and combine my two passions — fractals and burlesque.  I plan to print my art on skimpy lingerie.  I'll replace tassels with spirals and strategically position a Mandel"box" right over the pubic area of the dancers' panties.  Then I'll stage my "performance" at a local "gentlemen's club."
Do you find my proposal lewd and absurd?  I'd agree.  But I'd also assert that my thought-problem/half-baked-public-performance idea has just as many (if not more) interdisciplinary cross-connections between fractals and dance as does Parke's.
And, if it will help persuade any potential backers, I'll even insist my dancers peel off their garments in a strictly non-Euclidean manner.
~/~
Tags: fractal, fractals, fractal art, fractal blog, fractal dance, dance this mess around, janet parke, through you so i, ultra fractal mailing list, fractalbook, self similar strip tease, cruelanimal, orbit trap