Right now I'm having deja vu and amnesia at the same time.
—Steven Wright
Regular OT readers, at least those who haven't burned out their memory circuits with illegal substances or labored in their studio garrets to produce ten spirals to submit to this year's suddenly slimmed-down Fractal Universe Calendar, might recall that I already reviewed this image about a month ago. And it's true. I did. And, basically, I stand by what I said then. But, as with social-political-moral issues, there are also two sides to every review. There is a flip side — a shadow side — a dark side of the force, if you will.
Last month, I observed that DeCelle opened up fractal art to "a new way of seeing" and expressed hope that he would keep "his mysterious secret secret." Well, it seems his secret has been revealed — and what it opens up could well be a Pandora's Box for the fractal community
The "secret" is likely found in the latest release of Ultra Fractal 5 and its new image import feature — the function of which is described as follows:
Import PNG, JPEG or BMP images in your fractals with the new image import feature. Simply select a coloring algorithm that contains an image parameter, and you can select any image on your computer to use.

The coloring algorithm determines how the information from the image is used. For example, the standard Image coloring algorithm just displays the entire image in the fractal window.
So, I'm guessing that DeCelle was beta-testing the latest UF iteration, and this added feature is his "secret" ready for digestion by the Fractalbooking masses. No groundbreaking, individual, idiosyncratic formula wizardry was involved. It's just a new twist on the layering functions of UF — but one that will have profound repercussions for fractal art.
Apparently, users now have the capability in UF5 to import digital images (say, photos) and incorporate them as separate layers. Consequently, it will henceforth be impossible to discern how many layers of a UF image are fractals and how many are photos. So, in the future, when you look at a UF image like this
you'll never know exactly how the image was made. Are all of the layers fractals? Or are some layers photographs of rusted out car bodies? And does it make a difference?
Maybe not — if one believes that fractal art can embrace radical post-processing. But many UF users have long clung to the fictitious illusion that using UF means they are somehow making "purer" fractals because no post-processing is involved. A laughable remark like this could often be seen on UF images posted to art communities like Renderosity: 100 layers. No post-processing. Sure. As if anything "pure" remained after that sucker had been atom-smashed into a hundred fractal pancakes. But, now, with the introduction of adding layers of photos, can anyone still claim that using UF involves no post-processing? A better question might be whether the resulting images are fractal art at all — or, instead, fall somewhere in the category of mixed-media digital art. The mods overlording fractal galleries at hang-outs like Renderosity and deviantART should immediately begin to wrestle with such questions and determine where UF5 "fractal art" should be properly placed.
I think the implications of this development are staggering, and I suspect both Tim and I will have more to say about this bring-anything-in feature in the days ahead, but here's an observation right off the top of my head.
Ultra Fractal has now become just another paint program — or, more precisely, a rather expensive Photoshop filter.
Isn't that obvious? DeCelle imported a digital image of Lars-Gunner Nordström's Moment in Blue and put it through some layer paces — sort of like running filter rinses over it in a fractal car wash. Is this a complex process — and do you really need to purchase UF5 to get comparable results? Let's see.
Here is a digital image of Nordström's original:
Moment in Blue by Lars-Gunner Nordström
Here's what I did. I saved the image above on my hard drive. I opened and loaded Photoshop. I imported the image above. Using the "Artistic" effects, I applied the "Dry Brush" filter and saved my "work." Total processing time: 47 seconds. The result:
Nordström + Dry Brush filter
I closed the image above and reloaded the original. I applied the "Watercolor" filter and saved my "work." Total processing time: 13 seconds. The result:
Nordström + Watercolor filter
I closed the image above and reloaded the original. Wanting a little more pizzazz, I applied the Fresco filter, and actually played with the settings for a few more seconds, then saved my "work." Total processing time: 24 seconds. The result:
Nordström + Fresco filter
And, hey, I feel your pain. You're saying: Man, I can't afford Photoshop — or even Ultra Fractal. Yet, you'd also like to be able to make such state-of-the-tech "fractal art." No problemo. Here's what I did. I Googled "free paint programs" and found one called Artweaver. Downloaded it. Installed it. Opened it. Imported the Nordström original, applied the "Oilify" filter, and saved my "work." Total processing time: 3 minutes, 14 seconds. I could have probably shaved off almost a minute, but I skimmed two other paint programs before settling on Artweaver. The result: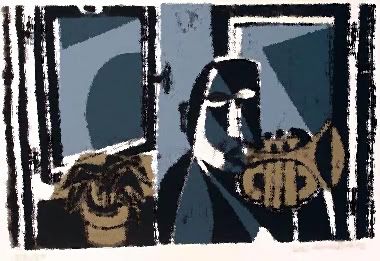 Nordström + Oilify filter
Now compare my results to DeCelle's image-of-the-week above. Aside from the Fresco effect, can you really tell an appreciable difference between the images — other than some minor gradations? Would you say I was engaged in making "fractal art"? No? What if I reminded you that Photoshop filters run using algorithms? You still say no? Then, you tell me, why is DeCelle's image fractal art, and my quickie exercises above are not? Because I found DeCelle's image in the fractal gallery at Renderosity? Because DeCelle's using Ultra Fractal instead of a paint program?
No, I'm (literally) not buying it — and none of the UF cultists' admirers' spinning that is sure to come will change the big picture. Adding photo layers to UF is about as anti-fractal as you can get. Doing so means that the basis for an image being "fractal" or not will now have to come from an assessment of the image and not purely from the software used to make it. An image made in UF5 could just as likely be a retouched photo as a traditional fractal image. In the past, it was possible to try to fob off freaky UF images as fractals by (incoherently) arguing they were made entirely in UF, but now such a claim won't mean any more than saying you made your fractal work in Photoshop using a plug-in.
Face the facts. UF5 is certainly not exclusively a fractal program, and its use will no longer guarantee that the images made in it will be routinely accepted as fractal art and not some other sort of mixed media. Damien M. Jones' image, for example, the one self-selected for the 2006 BMFAC, will be the sort of image that must be forever suspect hereafter. How will we know he didn't just add a photo layer of a pic of dead grapevines being charged with an electric current? And will this year's BMFAC (assuming there is one) have to add a no-UF5-photo-layers clause to the rules? After all, last year the administrators expressed a desire to see only "artwork that is uniquely fractal; artwork that uses fractal tools to produce less-fractal imagery is not as desirable." Does the addition of a singe photo layer automatically make an image no longer "uniquely fractal"? Moreover, is our entire movement at increased risk for some de-evolution? Unfortunately, UF5 users will likely now have to make images that look more fractal and not less fractal because viewers cannot trust UF artists not to have used some photo layers to make an image more interesting. That's progress? If you think so, you might as well skip UF5 entirely and "fractalize" your photos by purchasing the much more versatile and $10 cheaper Paint Shop Pro instead.
At least there's one good offshoot from Ultra Fractal being downgraded to the status of just another image manipulation filter. No more will I have to listen to any self-righteous proclamations from UF users about how legit their fractal art is — and what a cheat and a hack I am because I prefer post-processing fractals using various graphic programs. Think I exaggerate? Here's Kerry Mitchell, from an OT comment thread on a post about the UF winners in the 2007 BMFAC, taking a poke at the style of art that both Tim and I produce:
All that's missing [from the 2007 BMFAC winners] are a few Moire patterns and canned filters.
And, now that I think about it, wasn't Mitchell the same guy who also argued this in another OT comment thread:
With fractals, I think it's important for every artist to channel their inner rocket scientist to some level. Not only are we using tools (and every artist needs to know their tools), but the tools are not usually ones that are commonplace (almost everyone has a sense of light or stone), so some study is needed to understand what's happening. Also, we have the chance to create our own landscapes, not "just" to photograph or paint them.
So, Kerry, now that UF has become just another "canned filter" and can be used to "just" paint photographs, do you still feel the same way?
~/~
This is just the tip of the iceberg. Can you imagine what will happen when the Fractalbookers get their hands on this tool? The kitsch floodgates will burst open. DeCelle, at least, has the good taste to work with an artist of Nordström's caliber. But I'm betting the Fractalbook throngs will not be so discriminating. Expect a tsunami of "fractalized" photos of pets, kids, online friends, self-portraits, summer vacation shots, and birds-bees-bunnies romping in back yards across the world — and all soon to be posted with obliviousness in the fractal gallery section of an art community near you. Hide your eyes!! Save yourself!!
And, finally, here's a puzzler to scratch your head over. I see OT former heckler Ken Childress currently has the prominent lead blurb on the main Ultra Fractal site. Bubbling over with enthusiasm and hyperbole, he gushes:
This program is the most versatile and easiest to use of just about any program I have used, not just fractal programs.
Oh really? No learning curve at all, huh? Easier to use than either MS Paint or Elf Bowling, is it? Then why does the main UF page suggest users could perhaps benefit from preparatory coursework by highlighting a salient link to UF classes taught at the Mississippi School of Anti-Fractal Art™? And I see its web page on UF instruction opens with the following:
Ultra Fractal is a powerful, feature-rich, and extremely versatile fractal generator that allows the user to explore many types of fractals and to create amazing images. But it has, by nature, a very steep learning curve.
Somebody needs a time-out and should go sit in the corner for stretching the truth…
Tags: fractal, fractals, fractal art, fractal blog, fractal programs, digital art, art criticism, ultra fractal, ultra fractal 5, paul decelle, lars-gunner nordstrom, janet parke, damien m jones, ken childress, even more fractalbooker crap, undercover paint programs, cruelanimal, orbit trap