The Dead CEO Watches His Back (2007)
Your decisions
passed on cancer. A memo meant
as a joke kills
quicker than all layoffs.
Death won't get you
a bye. Workers lean from chemo
and fleeced pensions
speak of you to lawyers.
Your investing
and gilded chute fold up in wind
like a bum umbrella.
Safe in the grave
your pockets are plucked
by grifters and mentored vultures
and needy downsized proles
pray you rot more.
~/~
And in recent news. From chron.com (10-8-07):
The Supreme Court reacted skeptically today to arguments that banks, lawyers, accountants and suppliers should be held liable for helping publicly held companies deceive investors.

Chief Justice John Roberts and Justice Antonin Scalia suggested that federal law imposes strict limits on shareholders who want to sue companies and firms other than the one in which the investors hold stock.

The two conservative justices subjected a lawyer for corporate investors to tough questioning during arguments as the justices try to set boundaries in stockholder lawsuits for securities fraud.

[…]

The outcome of the case will determine the fate of a separate suit by Enron shareholders who are seeking over $30 billion from banks accused of colluding with the energy company to hide its debts.

If the court rules against investors, "it will mean the end of the case" for Enron shareholders and the banks that were primarily liable, attorney Patrick Coughlin, representing Enron stockholders, said outside the Supreme Court after the arguments.
It's good to have friends do favors like appoint Supreme Court Chief Justices. You find yourself having to watch your back less — even after death.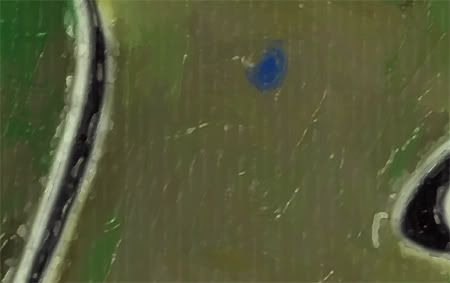 Face Detail of The Dead CEO Watches His Back
~/~
Poem based on the image. Image initially made with Fractal Zplot. Post-processed until every pixel invested in its future lost everything.
Technorati Tags: fractal, fractal art, digital art, poetry, ken lay, enron, dead ceo, watch your back