It may now be said that an object becomes, or fails to become, a work of art in direct response to the inclination of the perceiver to assume an appreciative role.
—Victor Burgin, "Situational Aesthetics"
Who among us hasn't wondered why fractal art cannot seem to crack the glass ceiling of broader cultural recognition and gain entry into the pantheon of the larger art world?
Well, perhaps the problem is not with our art — but with our
perceivers
.
Could it be that we are up to the challenge of processing our art, both aesthetically and technologically, but those who view fractal art are not yet up to the task of processing it psychologically?
Cynthia Ward, writing in Politics and Culture, says in "African Visual Culture: Minding an F":
Since the founding of fractal geometry by Benoit Mandelbrot twenty-five years ago, there has been a growing iterative feedback loop of fractal art analysis, ranging from Hugh Kenner's 1988 study of Ezra Pound's Cantos to recent analyses of the fractal dimensions of Pablo Picasso's Les Demoiselles d'Avignon and Jackson Pollock's drip paintings. Many of these analyses suggest directly or indirectly that the appeal of fractal art arises from an innate response to fractals, which have been called "the basic building blocks of nature's scenery" and even "the fingerprints of God" ([Richard] Taylor, "Fractal Expressionism"). [Physicist Richard] Taylor has extensively analyzed the fractal dimension of Pollock paintings in such publications as Nature, Leonardo, and Scientific American and he, as well as other researchers, have attempted to determine the fractal dimension or "D value" considered "most pleasing" to viewers.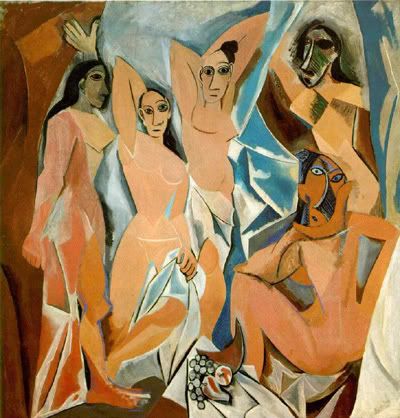 Les Demoiselles d'Avignon (1907) by Pablo Picasso
It probably won't surprise you that fractal forms scored in the two lowest registers of sensory pleasantry. The "wow" factor is strong, but, apparently, fractal shapes are not comfort food for the raised-on-representational-art masses. Even worse, Taylor argues that people cannot easily reboot what art they like because preferences are "set…by continuous visual exposure to patterns characterized by this D value."
Ward feels this internalized aesthetic selection process explains the chorus of critical whack-a-mole reactions to fractal art. What's worse is that individualized sensory biases will not easily shift overnight. Ward feels history supports her:
There is strong evidence that fractal appreciation is not innate or instinctive. The initial reception of artworks now considered fractal was characterized by shock, horror, hostility, and derision. In 1956 Time magazine labeled Pollock "Jack the Dripper." Early viewers of Les Demoiselles d'Avignon were appalled by the "hideousness of the faces" of the "monstrous" women in the "terrible picture," which Picasso did not exhibit until nine years after completion, when reviewers called it a "nightmare" (qtd. in Arthur Miller, Einstein, Picasso: Space, Time, and the Beauty That Causes Havoc). In The Fractal Geometry of Nature, Mandelbrot stresses the predominance of negative aesthetic assessments of fractal shapes as "'monstrous,' 'pathological,' or even 'psychopathic'" –an attitude reflected in a long history of western mistrust of concepts central to fractals such as irrational numbers and infinity. As Ron Eglash observes [in African Fractals: Modern Computing and Indigenous Design], in "Plato's philosophic cosmology, spiritual perfection was seen as the higher level of transcendent stasis, and illusion and ignorance were the result of life in our lower realm of changing dynamics ('flux,' which in ancient Greek also means 'diarrhea')."
Well, no wonder people sometimes tell me my work looks like…
~/~
So, fractals iterate chaos rather than serenity in many people's brains. Ward goes on to explain in significant detail that the numerous fractal objects found in early African art worked heavily against its canonical acceptance. Gallery patrons, wanting comfortable shapes and satisfied minds, opted instead for more calming representational forms. You know the drill: faces in portraiture, bowls of fruit, saints in repose or martyrdom.
Even a quick surfing excursion shows that Ward is correct on one front. Fractals pop up all over African art: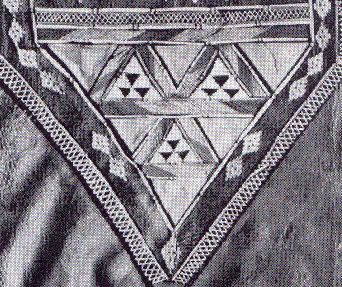 Tuareg leatherwork: the basic shape is made of 6 copies each shrunk by 1/3. You can't miss the Sierpinski Gaskets.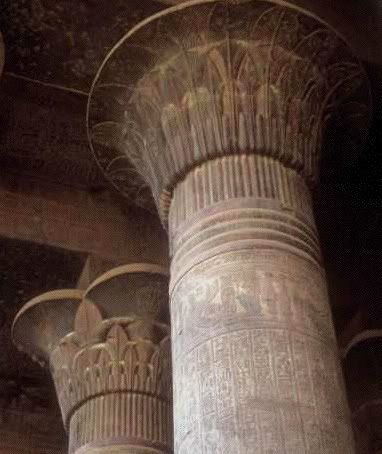 Ancient Egyptian cosmology often used the lotus blossom as an image for the development of the universe.
The petals within petals within petals of the lotus represented the cosmos on smaller and smaller scales.
[Both images seen on African Fractal Art]