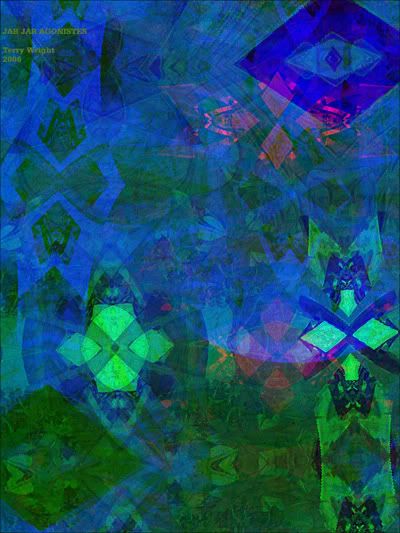 Jar Jar Agonistes (2006)
Gollum is way better.
I evoke birthday blight and snakes
to haul home. I stoke vitriol
and hollow men to guess the price
of my money pit. Sad to be
pitied more than Lieberman or
other juggling carpetbaggers. I seem
a nasty senator, a recycling
smattering of acting and idiot
clowning. Executable. Embedded
face down in a chemical treatment plant
to erase all screentime tribulation.
Decline the first glass coffin.
Meesa never asked to be born
or a racist Barney. I'm a rubber schema
and uncomfortable comic relief.
I must be expunged from all prints.
Even my death will annoy you.
~/~
This is a "Google poem" — a found text compiled by bits of search phrase strings from Google searches of agonistes and jar jar.
Wikipedia explains the term:
The word Agonistes, found as an epithet following a person's name, means "the struggler" or "the combatant." It is most often an allusion to John Milton's 1671 verse tragedy Samson Agonistes, which recounts the end of Samson's life, when he is a blind captive of the Philistines (famous line: "Eyeless in Gaza at the mill with slaves"). The struggle that "Samson Agonistes" centers upon is the effort of Samson to renew his faith in God's support.

Probably the most famous post-Miltonic use of Agonistes is by T.S. Eliot, who titled one of his dramas Sweeney Agonistes, where Sweeney, who appeared in several of Eliot's poems, represents the materialistic and shallow modern man. Another well-known example is Garry Wills' 1969 political book Nixon Agonistes, discussing embattled president Richard Nixon.