Summer in Malibu (1999)
Nine campers view photos
of longboarders and swells of smoke.
Hot Hub said industry crosstalk.
Click the link to flame on and off
premises. Dry weather, a tourist,
checks in and tan lines glow
white hot. Wet suits curdle. Surfers
crawl a foam floor nosing
wipe out exits. The coast highway
burbles plastic, cut by lasers.
Santa Ana blew back in from Texas
till stars flared on hillsides.
~/~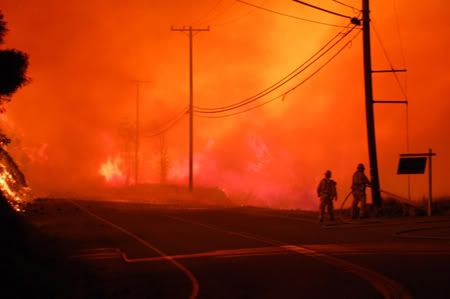 Firefighters fighting the Malibu fire in Carbon Canyon, 2007
Photograph by Adam Housely
From "Let Malibu Burn: A Political History of the Fire Coast" by Mike Davis:
Fire in Malibu has a relentless, staccato rhythm. The rugged coastline is scourged by a large fire, on average, every two and a half years, and at least once a decade a blaze in the chaparral grows into a terrifying firestorm consuming hundreds of homes in an inexorable march across the mountains to the sea. In one week last month, 10 homes and 14,000 acres of brush went up in smoke.

[…]

From the very beginning, fire has defined Malibu in the American imagination. Sailing northward from San Pedro to Santa Barbara in 1835, Richard Henry Dana described (in Two Years Before the Mast) a vast blaze along the coast of Jose Tapia's Rancho Topanga Malibu Sequit. Despite (or, perhaps, because of) Spanish prohibition of the Chumash and Gabrielino Indians' practice of annual burning, mountain infernos repeatedly menaced the Malibu area throughout the 19th century. During the boom of the late 1880s, the entire ex-Tapia latifundium was sold at $10 per acre to the Boston Brahmin millionaire Frederick Rindge. In his memoirs, Rindge described his unceasing battles against squatters, rustlers and, above all, recurrent wildfire. The great fire of 1903, which raced from Calabasas to the sea in a few hours, incinerated Rindge's dream ranch in Malibu Canyon and forced him to move to Los Angeles, where he died in 1905.

[…]

While county crews were still racing to the scene, the implacably advancing fire ambushed its first victims at a ranch a few hundred yards downhill from the water tanks. Miscalculating the fire's velocity, residents Ron Mass and Duncan Gibbins foolishly attempted to defend their homes with a garden hose. They recognized their mistake almost immediately, but it was too late. Mass jumped into his Jeep, but the fire caught him before he could get out of the driveway. Hideously burned, he managed to stagger to the edge of Old Topanga, where firefighters saw him, his blistered arms "outstretched like a scarecrow." British screenwriter Gibbins, meanwhile, had dashed back to rescue his cat. He ran right into the fire's deadly thermal pulse. It charred 95 percent of his body. Paramedics later discovered him, barely conscious, in the ranch's swimming pool. "'I don't want to die,' he said over and over," recounted the Times. "Smoke poured from his mouth, and he talked in the terrible high-pitched squeal of a man with lungs scorched beyond repair." (Gibbins died later in the hospital, but Mass survived his third-degree burns.)

[…]

Malibu at dusk was a surreal borderland between carnival and catastrophe. Nonchalant crowds played video games on the pier while television news helicopters hovered overhead like noisy vultures and the Coast Guard cutter Conifer stood offshore, ready to evacuate residents. Beneath the flaming hills, the Pacific Coast Highway was paralyzed by a hopeless tangle of arriving fire trucks and fleeing Bentleys, Porsches and Jeep Cherokees. Hundreds more locals trekked out on horseback, by bike or on foot. A few escaped on skates. Three hundred Sheriff's deputies were brought in to guard against looting. The chaotic exodus was oddly equalizing: panicky movie stars mingled with frantic commoners. Confronted once again with its a destiny as a fire coast, Malibu replied in the vernacular. "This is hell, dude," one resident told the Times. "I'm expecting to see Satan come out any time now."
Although today's featured image was made in 1999, the firestorm cycle returned in 2003 and again just last month to wash through Malibu's hills and canyons like a brimstone heavy.
There is nothing wrong with making beautiful fractals — or engaging in art for art's sake. But like all good art, fractals can and should travel other roads not taken — political-social-cultural expression, mirrors to nature, and humor (including sarcasm and irony).
Or historical documentation — which, at least for today, burns the most fiercely.
~/~
Rooms with a View
Blog with a View
Original poem, 2007. Image originally made in Sterling-ware and post-processed until blowback produced a blue screen of death.
Technorati Tags: orbit trap, fractal, fractal art, fractal blog, fractal poetry, poetry, digital art, malibu, malibu fires