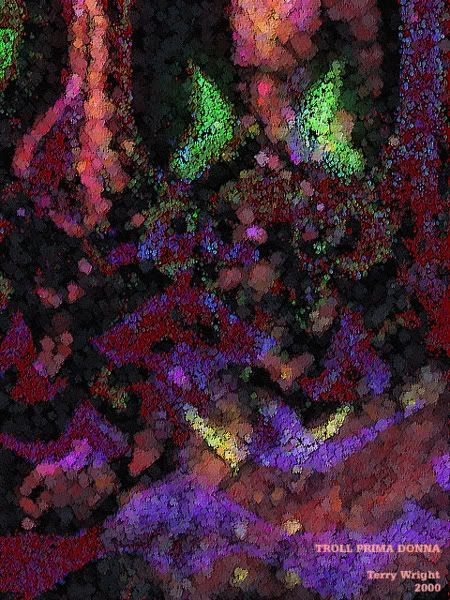 Troll Prima Donna (2000)
Another paradigm shift: trolls are hecklers. They aren't satisfied with the nearly infinite opportunities on the Internet to build their own spaces and places and express their views. They'd rather steal our voice and burn down our house.
Anyone who starts a blog, especially one functioning in part as a whistleblower, is eventually going to have to deal with trolls. You can be amused by them. You can shrug your shoulders and endure them. You can elect not to "feed" them. You can delete them and move on. Here on Orbit Trap, Tim and I have been through the entire evolutionary cycle, and now we've entered the last phase.
Let's start with the obvious. We are as much members of the "fractal community" as anyone else. We, too, have the right of free speech. This is our blog. We write it. We do not automatically owe anyone who shows up an audience with "Orbit Trap." We do not have to hold a courtroom in our comments section to validate or justify our right to speak out. We do not have to repeat the rhetorical chain of our arguments — on demand and ad infinitum — to people who have never bothered to attentively read what we wrote in the first place.
But, even as I type this post, I know our adversaries are firing up their keyboards to tell you (at great length) how we are cowards who have abridged their free speech. Just remember — they are hecklers.
Hecklers, by their actions, violate the free speech of others. Is that not true? When you are attending an event, whether or not an admission was charged, do you enjoy having the occasion interrupted by a heckler? Are you upset, or even raise your own voice in protest, when the heckler is removed by security? Why not? Could it be because the environment of that particular event wasn't the heckler's space or place?
Orbit Trap is our space. It's like our auditorium. We built the space, made a stage, provided a microphone and sound system, and opened the doors for an audience. We assume visitors show up because they want to hear what we have to say. I know I tend to visit blogs I enjoy reading and usually shun those that raise my blood pressure. When a heckler turns up in our space, we might choose to initially engage him or her for the sake of discussion. But if no discourse develops, eventually, for the sake of our audience, we usher the heckler outside.
Orbit Trap is also our place. This blog is like our home. We get to specify what kind of behavior we will tolerate in our home. Would you invite a heckler into your home — to scream in your face, insult you, mock you, or dress you down in a smug and condescending fashion? No. You'd ask the heckler to leave, and if the heckler refused, you'd have her or him removed from your home.
A heckler does have free speech rights — but the exercise of such does not have to be tolerated in your spaces and places. By removing the heckler, have you denied him or her all free speech rights? No, you merely said my space and place are off limits. The heckler is free to rent a hall, furnish it with a stage, plug a mike into a sound system, and have at it. Say anything. 24 hours a day every day. And maybe an audience will even show up.
The Internet provides nearly endless opportunities for hecklers to find their own spaces and places — including some devoted exclusively to fractal art. And, if hecklers want a more personalized home, there's always Blogger. Hecklers can create their own blogs in less than five minutes. Some of our adversaries have already done so, even as they slap up posts about how we denied them freedom of speech.
Things might have been different if our hecklers hadn't been hecklers. For proof, please review the archives. It's clear that those who challenged us didn't come to OT to discuss or debate. We know our claims are controversial and aren't averse to having critics. But our hecklers don't want you to hear what we have to say. Their purpose is to shout us down through intimidation while diverting your attention. They hope, by putting up enough white noise, that you will be unable to see the big picture. They imagine you will be easily manipulated by such tactics. They are imperious but fear exposure. The status quo privileges them, and they want nothing to curtail the creature comfort perks of their self-selected fiefdom. So they storm our castle with bluster because we threaten to tear down the walls of theirs.
OT has no army, but we do have an audience. The "silent readers" Tim mentions are no myth. I know you're out there. I can see you on OT's daily stats. I understand why you don't comment here. After witnessing our open house reception, who in their right mind would want such bile and grief to pervade their lives? It's enough that you listen to what we've said and make up your own minds. We've laid out our case. You've heard what our adversaries have said and witnessed their methods. Weigh their tone. Reach your own conclusions.
And if you think we are right, then shift your private paradigm. Once you understand our fractal emperors have no clothes, you can't screen out their lack of royal robes. There's no going back to the old feudal system where they hold court and toss bread crumbs out the window of their passing carriage. You don't need to become a whistleblower yourself. That Pandora's Box has already been ripped open. You just have to understand what's really going on. Knowledge is enough to begin a course change. Maybe you'll talk among your friends. Maybe you'll set up your own spaces and places. Maybe you'll start your own Fractalus-like collectives with like-minded peers. Or add guest galleries to your site. Or build your own fractal art contests — no matter how small scale at first. Or maybe you'll boycott the existing contests until they are run fairly and professionally.
Don't let a small non-juried clique, selecting themselves as "the most important fractal artists in the world," control an art movement that also belongs just as much to you and me and all of us. Take it back — using baby steps, if necessary — but begin to take it back.
Don't let the prima donna trolls lying in wait under the bridge prevent you from crossing any longer.
~/~
Image made with Vchira. Post-processed until the image became bored and decided it was above me.
Tags: fractal, fractal art, fractal art contests, digital art, blogs, blogging, trolls, hecklers, free speech, orbit trap