Snow Art by Simon Beck
[Click to view images at higher resolution.]
The artwork improves the mountains. And the mountains improve the artwork.
–Simon Beck
I wrote last time about the ways snowflakes are more than just unique. They are also idiosyncratically fractal.
But their fractal utility does not end with their journey from sky to ground. A transformation occurs fusing singular parts into a monolithic whole. Each flake becomes a pixel in one of nature's most versatile canvases.
The fractal snowflakes that fell combine to make a background for this fractal snowflake, or
this fractal snowflake, if 3D is your thing, and you prefer that 2D be best left out in the cold.
Of course, Mother Nature and Old Man Winter need a helping hand (or foot), and that's where artist Simon Beck literally steps in. He creates immense patterns in snow by walking across the terrain in briquette snow shoes in the mountain valleys and ski slopes near Mont Blanc. His tools are his feet.
Of interest, naturally, to OT readers is Beck's admitted interest in creating mathematical imagery. Inhabitat observes that
Beck is a fan of producing mathematical patterns that have different effects when viewed from various vantage points in the changing light throughout the day. Preferring to achieve the 3D effects, he loves to snap his creations when the sun is at its highest point, causing the most contrast on the designs across the lake.
Fractal forms and attributes are unmistakable in Beck's work, and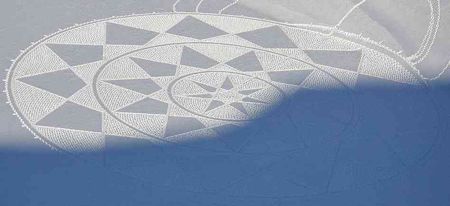 vantage point can indeed be critical. As we see above, the shade from a nearby mountain implicitly alters one's viewpoint and turns the piece into a rising sun composed entirely of snow.
More critical than viewpoint, though, is the time frame in which to view the art. Beck's work is decidedly ephemeral. Art attacks — ranging from rambunctious winds, to unhelpful sudden snowfalls, or including even errant skiers — could occur anytime during creation or after completion. Beck backs up his art with aerial photographs.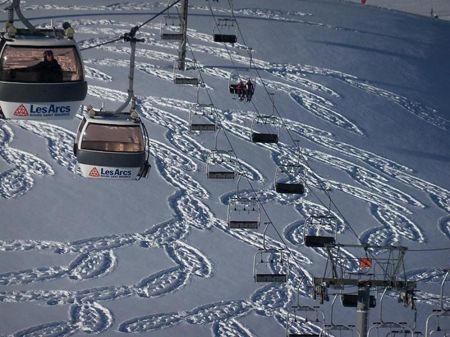 Making art always involves some degree of finesse. After all, snow allows for no digital undo. Beck, fortunately, appears meticulous in his process. According to Colossal,
each work takes the 54-year-old artist anywhere between 6 hours and two days to complete, an impressive physical feat aided from years of competitive orienteering. The orienteering also helps him in the precise mapping process which often begins on a computer before he's able to mark landmarks in the snow that guide his precise walking patterns.
Or sometimes he just sketches out a rough outline
Beck's plot for a design drawn on paper.
and then starts to walk. Beck says each snow drawing takes about ten hours to create. Like any physical artist, Beck has to overcome obstacles digital artists rarely face — like having to change out of damp clothes as the temperature drops. And there's always a chance of a faulty render that no plugin or step backward can fix. Beck tells Metro that
the hardest part is avoiding a 'stupid' mistake, and the most frequent cause of those is a wrong aiming point (straight lines are made by aiming at a point in the distance but one can easily accidentally aim at the wrong point).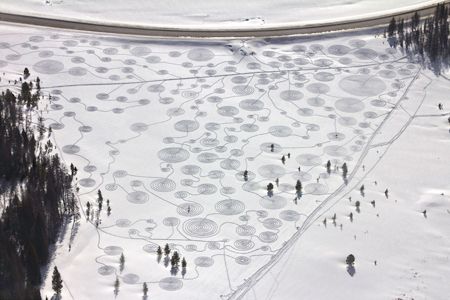 The impermenence of Beck's art can sometimes lead to déjà vu double exposures on a snow canvas as wide as six football fields. As the snow sculptures melt, a given piece sometimes thaws into earlier snow art iterations that bleed through like a natural film dissolve.
And then there's the crop circle similarity. Those oh-so-fractal patterns stomped out with boards and rope by merry but often mathematical pranksters. Or are these geometric phenomenon instead cryptic messages afterburned into our green fields and tall crops by space invaders?
Although Beck does not care for the crop circle comparison and even points out that
A lot of people seem to call it snow crop circles, which I dislike as a lot of those who do crop drawings don't ask permission and I don't want to be associated with that sort of illegal activity.
he also has a sense of humor the size of a mountain valley about the issue:
All of Beck's body (snowbank?) of work is worth viewing, but here are a few of my favorite pieces:
How stunning. What is it? Evidence left by nature at the crime scene? Moiré patterns of the planet bleeding through and needing better anti-aliasing? The thumbprint of the Creator?
Another vantage point reminder to remember. We are looking at photographs of the snow installations. The wide-angle shot here heightens the perception of depth to give a stylized sense of encroachment. The use of light is central to highlighting the various stretched oval shapes and to focusing attention on the locus point of the central flower form.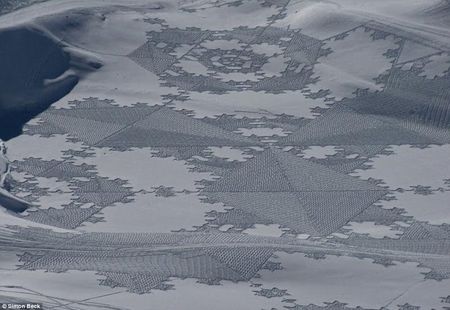 This is my favorite piece. It is just sublime.